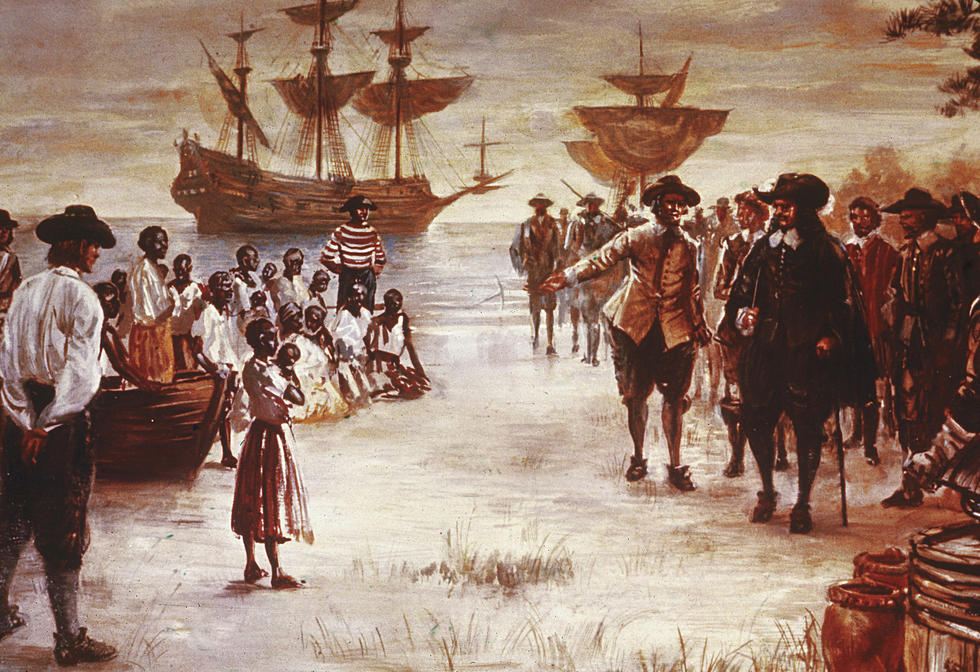 First Enslaved African Landing [PHIL-OSOPHY]
Getty Images
On August 20, 1619, "20 and odd" Angolans, kidnapped by Portuguese colonial forces, arrived in the British colony of Virginia and were immediately sold to English colonists. This would come to be known as the first enslaved African landing. That date would also mark a beginning of two and a half centuries of slavery in North America.
The 2019 commemoration of the 400th anniversary landing will be acknowledged Sunday, August 25, from 1 to 6 p.m. by the New Bedford Historical Society and the New Bedford Whaling National Historical Park. On Wednesday, August 21 at 9 a.m., Park Ranger Rufai Shardow, will join me on The Phil Paleologos Show to discuss all the festivities planned.
Three hundred and fifty captives were dragooned aboard a ship that was attacked by two privateer ships, with 60 of the slaves being stolen. By the time they arrived at Virginia Colony's Point Comfort, 150 captives died during the crossing. The remaining were traded for food or sold as indentured servants.
As cash crops like tobacco, cotton and sugar became the base of the colonial economy, slavery became its engine. The conflict between abolitionists and those who wanted to preserve and spread slavery was a driving force in the outbreak of the Civil War.
In the end, 246 brutal years of slavery had an enormous effect on American society, and on cities like New Bedford that became a "station stop" along the Underground Railroad. And it all started 400 years ago with the landing of the first enslaved Africans in English occupied North America at Point Comfort.
Phil Paleologos is the host of The Phil Paleologos Show on 1420 WBSM New Bedford. He can be heard weekdays from 6 a.m. to 10 a.m. Contact him at phil@wbsm.com and follow him on Twitter @PhilPaleologos. The opinions expressed in this commentary are solely those of the author.
More From WBSM-AM/AM 1420