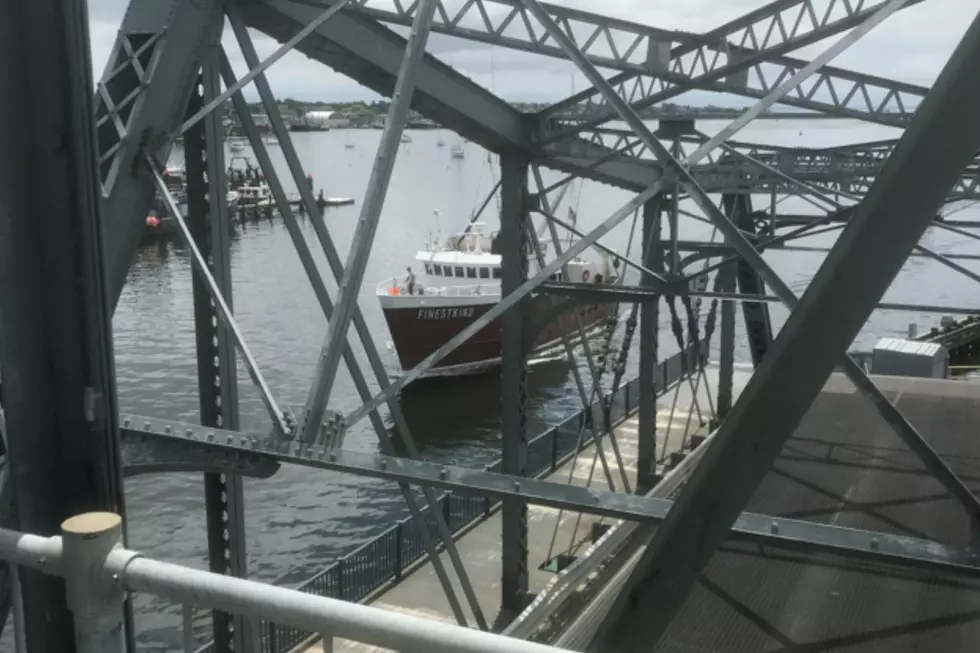 Former New Bedford City Councilor Lands 'Finestkind' Role
Courtesy of Kerry Winterson
When you're casting a role for bridge operator in a New Bedford-based film, why wouldn't you choose a guy who's actually done the job for over 37 years?
It makes sense.
That's exactly what "Finestkind" producers did when they hired former New Bedford city councilor Kerry Winterson.
Winterson spent all day at his old stomping grounds on Saturday, filming an intense scene with Jenna Ortega, Ben Foster and Toby Wallace at the New Bedford-Fairhaven Bridge.
Without giving too much away, the scene is expected to appear toward the end of the movie, a crime thriller from Academy Award winner Brian Helgeland.
Spoiler alert from the man who was there:
The scene has Tommy Lee Jones in the back of a Bristol County Sheriff's van. Jenna Ortega's character bribes the bridge operator  (played by Winterson) to open the bridge to cut off traffic and trap the sheriff's van. This allows Tommy Lee Jones and his two sons (who were to head out on a 10-day fishing trip onboard the Finestkind) to have one final emotional farewell before Tommy Lee Jones heads off to prison, where he will presumably die of cancer.
"What's funny is that they forgot to bring the fake money for Jenna's character to bribe me with," Winterson said. "Coincidentally, I had a few hundred-dollar bills in my wallet, so I asked them if they wanted to use them, and they did. So when you see Jenna bribe me with the money in the movie, that's my actual money."
Incredibly, out of the full day of the recording at the bridge -- 5 a.m. to 7:30 p.m. on Saturday -- only roughly two minutes of the film will likely make the final cut.
Winterson said he was treated like a real star on Saturday.  He was fed breakfast, lunch and dinner, and was even served the meals in his very own private trailer. He said it was an experience he'll never, ever forget.
The retired bridge operator had two speaking parts. He said he recorded seven takes of each line.  "Not because they were bad, but for the same reason you'll take several pictures when you take a selfie: You want to be able to pick the best."
The interaction with Ortega was Winterson's first line in the movie. It is him accepting the bribe from her and agreeing to open the bridge. His other line is an interaction with the crew of the Finestkind. The vessel calls up the bridge to request a 3:15 p.m. opening.
"Roger that," Wnterson says in the scene. "I'll take care of you."
Winterson couldn't find enough kind words to say about the director, Brian Helgeland.  He said the New Bedford native was "just the nicest guy, such a down-to-earth guy.  He asked me to take a selfie together on the bridge. You just couldn't find a nicer guy."
We'll let you know when Winterson's star on the Hollywood Walk of Fame is unveiled.
'Finestkind' Filming Locations and Dates in Fairhaven
Fairhaven's latest turn on the big screen will come in Finestkind, a film directed by Academy Award-winning New Bedford native Brian Helgeland. The production informed the town of several locations where it plans to film in spring 2022. Here they are.
21 Famous People You Didn't Know Were From the SouthCoast
Move over Hollywood, you're not the only town that breeds stars. We've compiled a list of some famous people that either are native to the SouthCoast, or eventually called it home.
More From WBSM-AM/AM 1420