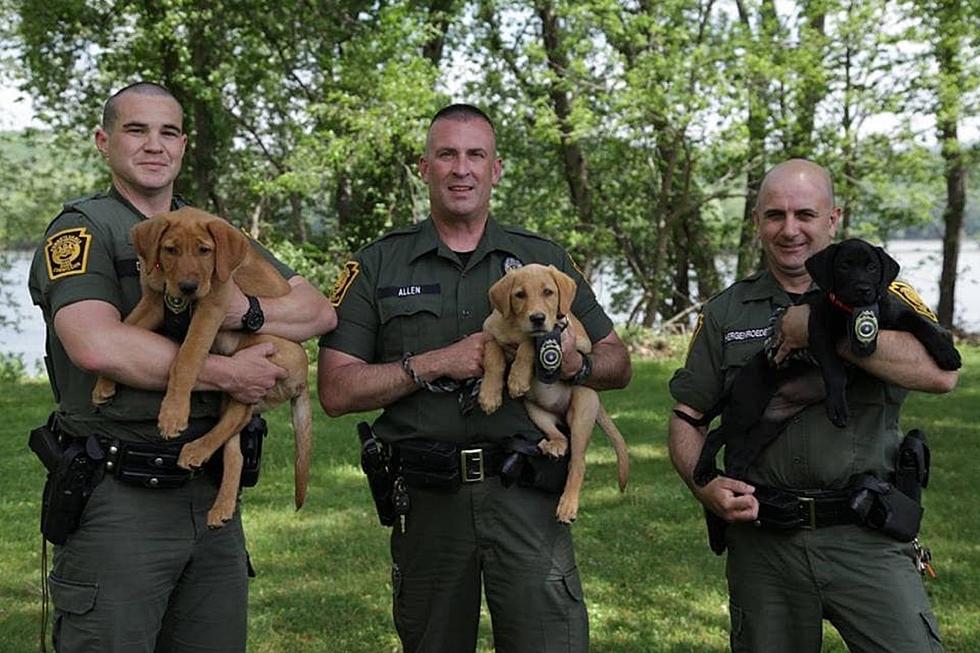 Fairhaven Police Department Seeks Help Naming New K9
Fairhaven Police Department K9 Unit via Facebook
The Fairhaven Police Department is looking for help from members of the community to name the newest dog that will be added to its K9 unit.
Officers from the department will be selecting a puppy from Maranatha Farm Kennels in Maine on Thursday, September 23 to join the team. The department would love suggestions as to what to name this four-legged officer.
The team does not yet know if this K9 will be a male or female until officers from Fairhaven Police Department and Bristol County Sheriff's Office arrive at Maranatha Farm Kennels to select the pup. They do know that the specific breed will be a Labrador Retriever. A public post was made on Facebook to request assistance from the community.
"If you have a suggestion for our K9's name, we want to hear it!," the department wrote. "Keep in mind we will not know the gender of the dog until next Thursday. So put some of your best names forward!"
The department has noted that it wants to keep suggestions to two names per person, to keep everything fair. Name submissions should be posted in the comments section of the Facebook post. Names must be submitted by Monday, September 20. The department mentioned that prizes will be determined.
Fairhaven Officer Jillian Jodoin commented on the addition.
"The K9 will be trained in Narcotics Detection and Friendly Scent Tracking" Jodoin said. "We are truly excited to bring this kind of asset to our community!"
The Fairhaven Police Department is very excited to work with Marantha Farm Kennels. Since 1998, Maranatha Farm Kennels has proudly provided municipal, state, and federal agencies with working dogs. One of those agencies, being Massachusetts Task Force 1. MA-TF1 is most notably known for its deployment to Ground Zero of the World Trade Center after the 9/11 attacks.
Meet Somerset's Adorable New Comfort Pup, Raider
At just nine weeks old, black lab puppy Raider is already making quite the grand debut as a comfort dog in Somerset schools. Whether he's greeting new friends or snoozing the day away, Raider is quickly getting socialized and growing into his new role – and his harness.
More From WBSM-AM/AM 1420