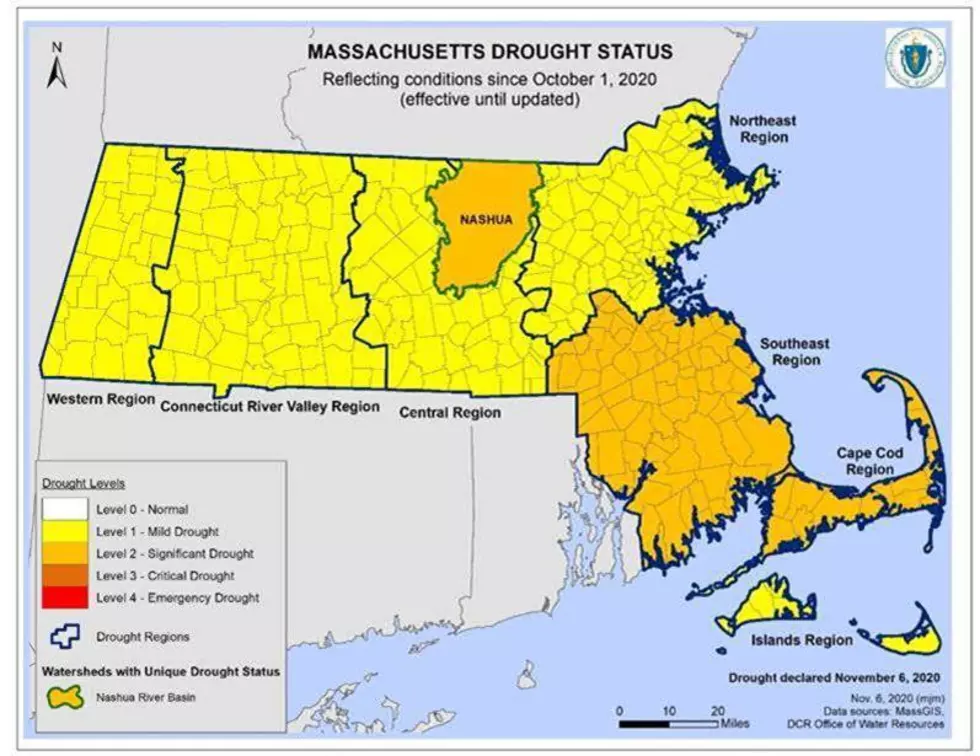 Drought Conditions Improve Across Massachusetts
Mass. EOEEA
Rainfall in October led to improved drought conditions across Massachusetts, the Baker administration announced today.
In Southeastern Massachusetts, conditions improved from a Level 3 "Critical Drought" to a Level 2 "Significant Drought," said Energy and Environmental Affairs Secretary Kathleen Theoharides. Cape Cod remained at Level 2, and conditions improved to a Level 1 "Mild Drought" elsewhere. However, in North Central Massachusetts, conditions worsened, and the Nashua River basin now stands at Level 2.
Theoharides said while she's glad conditions have improved, dry conditions remain and residents should continue to conserve water and prevent outdoor wildfires. "We will continue to work closely with state agencies and municipalities throughout Massachusetts to address drought conditions, and urge residents to remain vigilant to minimize the impacts of the ongoing drought," she said.
The different drought labels trigger different levels of response from state, local and regional government agencies. The declarations are informed by the state's Drought Management Task Force, which most recently met on Nov. 5.
Massachusetts experienced relatively dry conditions during the first half of October, while the last two weeks brought more rain. Over the summer, conditions were unusually dry, prompting warnings from officials to conserve water and prevent the outbreak of wildfires.
Drought conditions persist, said Massachusetts Emergency Management Director Samantha Phillips. "These drought conditions pose an increased threat of brush and forest fires and we urge residents to exercise caution when using backyard fire pits, charcoal grills, matches, and other open flames during outdoor activities and to call 911 immediately if there is a fire to prevent the fire from spreading," she said in a media release.
Enter your number to get our free mobile app
More From WBSM-AM/AM 1420