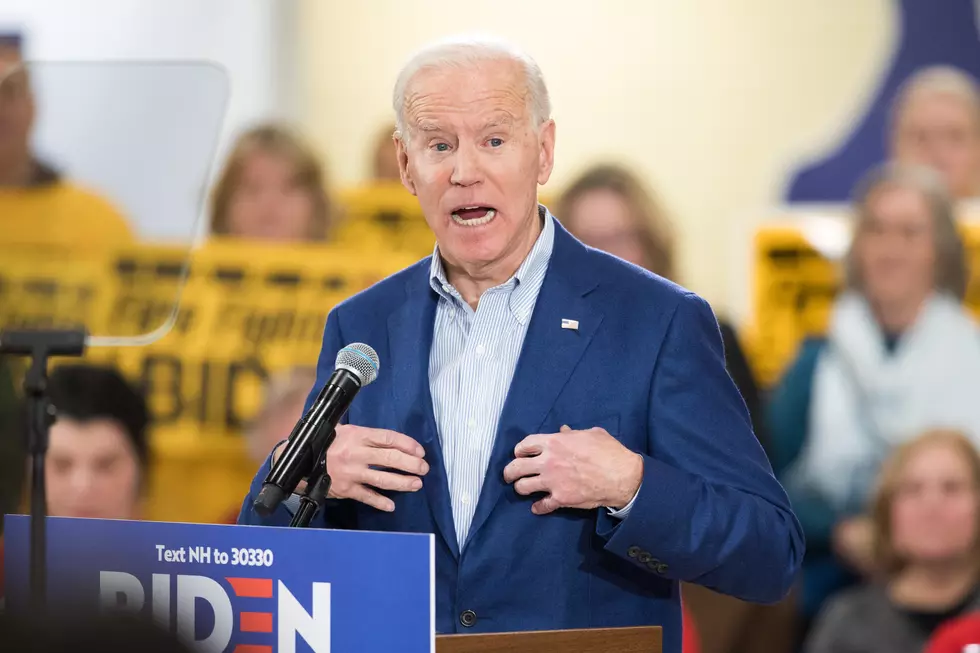 Dem 'Frontrunner' Biden May Be Facing Early Elimination [OPINION]
Getty Images
All right, all you "lying dog-faced pony soldiers," so what's wrong with former Vice President Joe Biden? He's done everything he could at this point to secure a strong footing in the Democratic primary race.
Let's look at his 2020 blueprint so far.
He volunteered a story about how cool it was when he (actually) threatened the President (Poroshenko) of Ukraine, pressuring him to fire the prosecutor general Viktor Shokin. He was savvy enough to call an 83-year-old disabled Iowan man "a liar" and challenged him to a pushups contest.
Biden, the man "Trump feared," just limped out of Iowa, coming in fourth. Fourth behind a mid-sized-city mayor from Indiana, a long time albatross in a Socialist Party and Vermont senator, and a far-left Harvard professor who is constantly caught in a web of fibs by the national press and who has tried to reinvent several ways to try to make herself more likable in the polls.
President Obama's eight-year vice president was turned away at the polls in Iowa by more than 84 percent of Democratic voters.
Recent polls in New Hampshire, whose primary is today, show him possibly leaving in fifth place. Maybe he isn't sticking his mouth to whisper into the ears of enough 11-year-olds on camera? Perhaps some more sneaking up behind women posing for cameras and putting his hands on their shoulders might bolster his position?
Maybe Trump and Republicans hanging his son Hunter Biden around his neck are dragging him under the currents, too.
All of those things matter for some reason in primaries. I personally would like to believe the American voters in Iowa rejected Joe Biden because he is literally always wrong.
I can assure you of one thing though: if 84 percent of Republicans voted for anyone but the former administration's vice president in a primary, the talking heads on the network news would be pounding the news desks and political reporters would be pouring the ink onto the presses to tell you that it was a validation that the former vice president's own party rejected the performance of that administration.
For some reason, I haven't heard a whisper of that (insert sarcasm here).
The Democratic National Convention is a mess, coming off the most recent presidential elections in 2016 when they were busted rigging the primaries and debates to give Obama's former Secretary of State, Hillary Clinton, a literally zero chance to lose.
Coming out of the gate in 2020, the DNC looked suspicious – no, actually they looked guilty of hiding something when first-in-nation Iowan Democratic Elections officials reported big problems and then eventually refused to comment to the pressing media on the whereabouts of the caucuses' tally. Speculation turned to accusations and rumors turned to rage.
The guy the establishment is trying to back limped out of Iowa. Despite his "long, storied record" and "peerless experience," which he is only too happy to tell us all about, Biden wasn't able to come into the top three.
He called it a gut punch, but that's only appropriate if we're talking about the kind of gut-punch Houdini took.
How many times has former President Barack Obama endorsed his vice president? If you guessed zero times, you'd be correct. That is true for 2016 as well.
If Biden finishes fifth in New Hampshire, the money will dry up quickly and be steered elsewhere. As we are now seeing, Biden will say and do almost anything to leapfrog over the growing field in front of him. Eager ears of those willing to give to him will turn to deaf ears ignoring him by next Thursday if Biden doesn't come in the top three.
A word to the wise though, Joe: negative finger-pointing alone is the path to losing in elections. We can see that you feel that you're forced to resort to it now. Judging by the successes we are seeing in the economy, we may see more of the same. Once the nominee is selected in the Democratic Party, that will have to be his or her path in the summer and fall of 2020.
Ken Pittman is the host of The Ken Pittman Show on 1420 WBSM New Bedford. He can be heard Saturdays from 9 a.m. to noon. Contact him at ken.pittman@townsquaremedia.com. The opinions expressed in this commentary are solely those of the author.
Enter your number to get our free mobile app
More From WBSM-AM/AM 1420