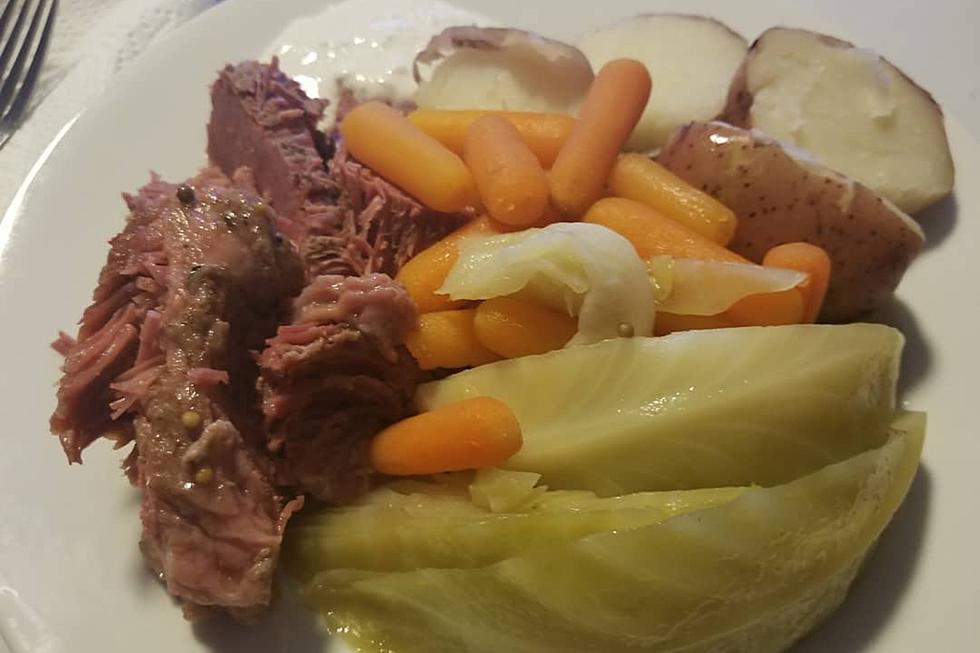 The Best Corned Beef and Cabbage You've Ever Had Takes Just 90 Minutes
Tim Weisberg/Townsquare Media
With St. Patrick's Day coming up, corned beef and cabbage is on a lot of people's minds. Some are wondering if it's OK for Catholics to eat the corned beef this year, since the holiday falls on a Friday. Others are wondering where they can get a corned beef dinner in a restaurant so they don't have to make it at home.
For those of us who do prepare it at home, however, I have the surefire way to make the best corned beef you've ever had in less than half the time you think it should take.
Everyone seems to think the key to a tender, delicious corned beef and cabbage dinner is to slow cook it for hours.
They're wrong.
I cook my entire dinner each year in just about an hour and a half, and it comes out better than any slow-cooked version while saving me a lot of time and clean-up as well.
Flashback to St. Patrick's Day 2019: it's a Sunday, and I've been lazy all day. I should have had a corned beef cooking on the stove, but I figured I'd just go out and eat instead. Then it hits me that if I get it at a restaurant, there won't be any leftovers for sandwiches, Irish stew or homemade corned beef hash.
I furiously Googled "fastest way to cook a corned beef," and that's when I discovered the joys of an Instant Pot. The website I found claimed the entire meal could be cooked in just about 90 minutes.
Needless to say, I was skeptical.
I headed on over to Walmart, grabbed an Instant Pot that was on sale for something like $30, and then got the corned beef, cabbage, potatoes, carrots, sour cream and horseradish I needed to make my dinner.
I followed the directions I read online, and was stunned by the final results. It was the most amazing corned beef I'd ever had. It practically melted in my mouth, and everything was cooked to perfection in at least half the time I would have normally spent preparing the meal.
I won't even bother giving you a "recipe" for how to make corned beef and cabbage in the Instant Pot, because it's really just a few steps, plus a couple of tips and tricks.
First, put the corned beef in the Insant Pot (be sure to use the rack at the bottom of the pot) and fill it about three-quarters of the way with water. Don't worry if the water isn't completely covering the meat. Then add in the spices that come with the meat and squeeze in a bit of yellow mustard for extra flavor. Some people like to add beer or garlic, but not me.
Close the Instant Pot and make sure it's properly sealed. Then select the "meat/stew" setting and set it for 90 minutes.
Once the time is up, you have two choices for releasing the steam: you can either manually release it, or let it naturally release. Natural release takes over 10 minutes and could cause your beef to get a little tough. Instead, I manually release the steam, but be careful how much you open the steam release because the boiling hot water from the pot will shoot out if you're not careful.
When all the steam has been released, remove the lid, take out the beef and wrap it in foil to keep it warm. This is helpful too because you want to give the meat a chance to settle before slicing into it.
Then take your cabbage, potatoes, carrots, onions, or whatever else you want to have with your corned beef and place it all in the pot, right in the same water in which you just cooked the beef. Close and seal the lid and steam cook them for five minutes, again using the quick release for the steam when completed so you don't run the risk of them getting too mushy.
Once that's finished, remove the lid and plate your meal and get ready for the best corned beef and cabbage ever. I combine the sour cream and the horseradish into a zesty dip for the meat, and pair the meal with a Guinness.
Don't forget to save the water from the pot, because you can use that to make Irish stew with the leftovers.
Give the 90-minute corned beef dinner a shot this St. Patrick's Day and let me know what you think. I bet you'll never spend hours in front of a boiling pot ever again.
25 SouthCoast Spots Serving Up Corned Beef & Cabbage on St. Paddy's Day
Looking to celebrate St. Patrick's Day with a helping of corned beef and cabbage? Stay out of the kitchen and take the family to one of these SouthCoast restaurants.
All of the SouthCoast Creameries Opening in Early Spring 2023
We put together a list of all the local creameries that are celebrating the opening days in March and April of 2023. It's only a matter of time before all of our favorite spots are ready to welcome us again for delicious frozen treats.
More From WBSM-AM/AM 1420