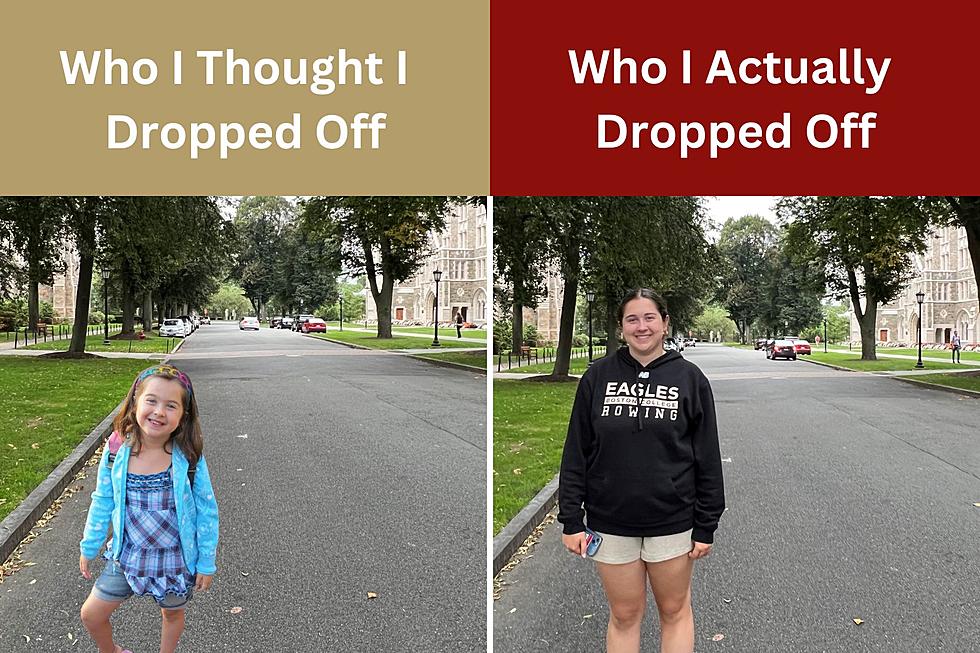 'Dreaded Day': Daughter's College Drop-off Has Emotional Dad Wondering What's Next
Michael Rock/Townsquare Media
It's been a solid week since I dropped my daughter off at college. I've only now been emotionally ready to write something about it.
When my parents dropped me off at Syracuse University, it never occurred to me for a second that they might be experiencing any emotion whatsoever. I love my parents dearly, but I honestly didn't consider them or their feelings at all. To be honest, I could be kind of a pain as a teen, so they were probably high-fiving each other all the way home on the New York State Thruway.
My daughter's college drop-off has been something I've been dreading for the past several years. We're kind of two peas in a pod. We both like the same geeky things. We binge the same shows, tour the same museums and have the same sense of humor. I thoroughly enjoy spending time with her.
I'm usually a pretty easygoing guy, but as we drew closer to drop-off day my anxiety began to build exponentially. As the countdown chipped away to weeks, and then days, my goal was to not embarrass my family. I visited Sunglass Hut in the Dartmouth Mall and invested in a good pair of shades.
When we pulled onto campus, we were met at the dorm by an army of upperclassmen who had all of her boxes and belongings outside of her door in under 90 seconds. It was impressive.
"This is going to be easy," I said to myself.  "We'll get her dorm room straightened out and maybe grab some lunch and take a family walk around the campus."
Needless to say, that didn't happen. It took forever to set up the room. I had to go out and grab some last-minute items at the store. I knew my daughter had a 5 o'clock orientation event, but what I didn't know was that she had to meet in her hall at 4:45 to walk to that event together with the other students.
As a result, our goodbye was unexpectedly rushed. I must have played out in my head how the goodbye would take place a million times: the last-minute dad advice I'd give, an extra big hug, her turning and walking back into her dorm as we drove away, me wondering if she'd turn around for one final wave. Honestly, the quick goodbye was probably a good thing.
I'll never forget the day we brought my daughter home from the hospital. I strapped her 8-pound little body into the car seat, praying I was doing it right. I drove about 20 mph up Route 6 until we got home. I brought her into the house and plopped the car seat down on the coffee table.
"Now, what?" I thought.  "What do we do now?"
We had spent nine months preparing for the arrival of this little human. Now that she was here, what the heck were we supposed to do?
I guess we just ... live our lives?
When we came home from the college drop-off last week, I had a very similar feeling.  We've spent the past 18 years preparing this human for exactly this day.
But now what?
Our house felt empty.  Her presence was gone.  Her car hasn't moved in the driveway in a week.  No sister/brother arguments.  Leftovers in the fridge aren't getting eaten. We closed the door to her room.
Now that a week has passed, I'm slowly trying to put things into perspective. Do I miss the heck out of my little girl?  You bet I do. But the incredible opportunities and the things she is experiencing are unlike anything she could ever have here. And that's the whole point, isn't it?
For as much as I want to be with her, she doesn't belong here in our little town anymore. She has so much more to offer this world than my wife and I can give her. That baby on the coffee table has grown into an intelligent, sophisticated, giving young lady with a curious mind.  And she knows we'll always be here for her.
So, now what?  What do we do? We just live our lives, I guess.
30 famous people you might not know were college athletes
Stacker
dug deep to find 30 celebrities who were previously college athletes. There are musicians, politicians, actors, writers, and reality TV stars. For some, an athletic career was a real, promising possibility that ultimately faded away due to injury or an alternate calling. Others scrapped their way onto a team and simply played for fun and the love of the sport. Read on to find out if your favorite actor, singer, or politician once sported a university jersey.
This Fake Michael Rock Facebook Account Is Disturbing
Fun 107 morning host Michael Rock was shocked to find someone was not only pretending to be him on Facebook but that they'd apparently gone through the trouble of copying all of his information, including photos, to make the page seem authentic. The real Michael Rock and Fun 107 in general will never ask you for your credit card information when you win a prize. Don't fall for scams.
LOOK: Was 2023 The Hottest Summer On Record?
Temperatures soared in 2023 as brutal heat set new records across the United States this summer.
More From WBSM-AM/AM 1420