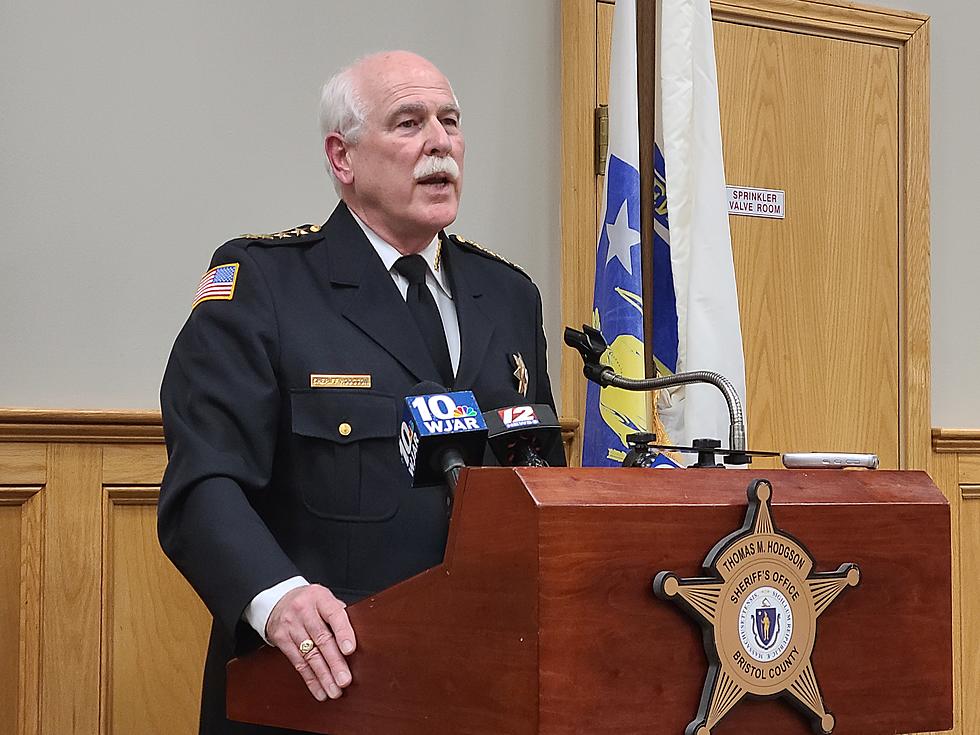 Bristol County Sheriff Under Ethics Review After Complaint Filed by Opponent
Brian Fraga/Townsquare Media
Bristol County Sheriff Thomas Hodgson's campaign is under review by the State Ethics Commission following a complaint about alleged misuse of taxpayer resources filed by his opponent in the upcoming election.
The race between longtime sheriff Hodgson and challenger Attleboro Mayor Paul Heroux is becoming still more contentious as Nov. 8 approaches.
Hodgson came under fire earlier this month after the high profile suicide of a murder suspect at the Ash Street Jail, which evoked the high rate of suicide and reports of civil rights violations at his facilities.
Meanwhile the state's Department of Labor Relations released a decision on Monday that Heroux violated labor laws by making 'coercive' comments to the spouse of a city employee.
But in turn, Heroux has alleged that the sheriff is misusing public resources for campaign purposes.
Ethics commission complaint
"I'm the one that filed [the ethics complaint]," he told WBSM. "Hodgson has been using government resources to campaign."
More specifically, Heroux alleged, "he drove his government vehicle to the debate. He drives his government vehicle to campaign events. And he uses Jonathan Darling, his [Sheriff's office] public relations officer, to help schedule things."
"I've turned all this evidence over to the state ethics commission," the mayor added.
According to the Office of Campaign and Political Finance, state campaign finance law bans using public resources for political purposes, "such as public employees engaging in campaign activity during work hours or using their office facilities for such a purpose."
The office goes on to define government resources as including anything that taxpayers pay for, such as office supplies and equipment like telephones, fax machines, and automobiles.
Allegations posted on social media
In a TikTok video that has been viewed more than 62,000 times, a local activist confronts Hodgson about his use of resources, saying "looks like you've got some taxpayer gas in that government-issued car right there."
Hodgson responds, "There's no question about it."
Watch the video:
A follow-up video was also posted by the same account.
Both videos appear to have been taken outside the WBSM station following a live debate between Hodgson and Heroux on SouthCoast Tonight earlier this month.
Hodgson's response
Hodgson has confirmed that he has spoken with the state ethics board about the use of his government vehicle while campaigning, but said that as a law enforcement officer he is allowed to do so.
"I have to have my vehicle available to me at all times," he told WBSM. "I'm the sheriff 24 hours a day...If there's an incident, I have to be able to respond."
He did say that he and his wife have a personal vehicle with no lights or sirens.
The sheriff added that there have been times in the past where he has been the first on scene to an accident or other incident.
"That's a bunch of BS," said Heroux of Hodgson's argument. "He's not a first responder. He's not a paramedic."
As for the complaint review, Hodgson said, he has "always fully cooperated" with the ethics commission whenever they investigate his office.
"When ethics gets complaints, they have to do a review," he noted.
State Ethics Commission declines to comment
The ethics commission's website confirms that the agency does review every complaint received — but it also notes that some complaints are resolved confidentially, after a "private educational letter" is sent.
"In these cases, no formal charge of a violation is brought and the matter remains confidential," the website states.
State Ethics Commission Senior Public Information Officer Gerry Tuoti said that by law, he could not confirm or deny if any matter is under review.
WBSM's Top SouthCoast Stories 10/10 - 10/16
WBSM's Top SouthCoast Stories 10/3 - 10/9
https://www.mass.gov/service-details/state-ethics-commission-investigations-overview
More From WBSM-AM/AM 1420