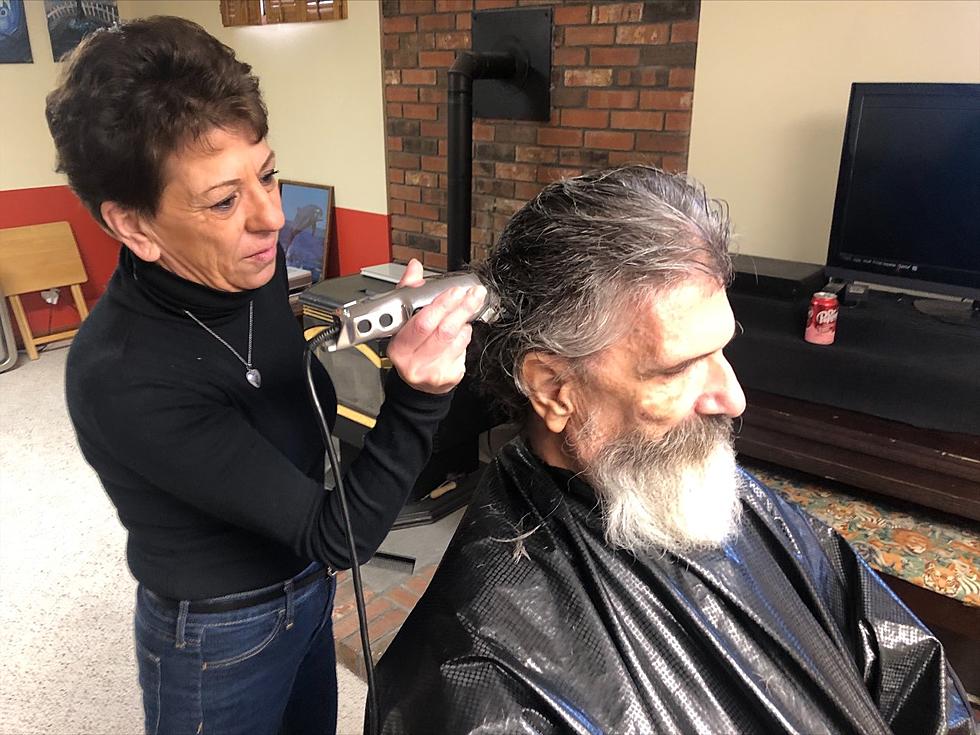 New Bedford's 'Big Al' Feels Lighter After Transformational Haircut
Phil Paleologos/Townsquare Media
Things haven't been easy for Big Al Vieira lately.
The down-and-out New Bedford man lost his home of over two decades recently because thieves cut and stole the copper piping to sell on the illegal market, he said earlier this month.
If you're not familiar with him, Big Al has been a favorite regular caller on WBSM, a man befriended by the entire community — and all arm wrestling fans (he's an arm wrestling champion).
Big Al is more than a victim here. He's representative of the larger national housing shortage. On a single night in January, the U.S. government collected nationwide data, and found that 26 people for every 10,000 were homeless on the streets or in shelters.
As Big Al told us, being homeless is very difficult. "I don't want to look homeless, but that's exactly what's happened to me," he said.
While there is still much to be improved, Al might want to walk back that statement.
When Big Al shared his story on WBSM, the community responded in a big way.
"Things are improving, thank God, because so many people reached out, from friends to complete strangers, who heard about my situation, and called me or knocked on my motel room door with money and groceries," he said.
Appearance isn't everything, but it matters to Al. He brought it up more than once.
"I'm in a dire situation, but I don't want to give the idea that I look grungy," said the mountain of a man, who stands at 6 feet, 5 inches tall. "I won't lie to you; yes, my pride has taken a beating, but I refuse to look defeated."
Big Al asked me where I get my hair done because he wanted to get his hair cut, a luxury he allows himself once a year.
Enter good friend Lynn Perry, a professional cosmetologist who cuts the hair of commissioned and non-commissioned officers at Naval Station Newport, and her husband Richard, former owner of Lloyd's Hair Salon on Route. 6 in Dartmouth, across from Bishop Stang High School. Lynn has been following Big Al's story as a loyal fan WBSM and volunteered gratis to cut his long hair and beard. When Lynn asked how he'd like the hair cut, Al replied, "I'd like a buzz cut, please. Take it all off, including my beard and mustache. Everything has to go."
If anyone needs advice on self-transformation and improving self-image, talk with Big Al. Like an ancient philosopher, he said it can really be hard to look in the mirror without feeling critical. So, the very talented Perry did as he wished, using a multitude of various large hair clippers and smaller trimmers and a pair of precision barber's shears, as his metamorphosis and refashioning began.
The before-and-after is something to see.
Conditions are improving for Big Al, even though he's being forced out of his present motel room because of new state laws. "I can't begin to thank all the people who have helped me. They have a friend in me until I see the pearly gates," he mused.
I've never known Big Al to lie. He's being honest when he says that things are getting much better. We'll have an important follow-up next week that will explain in full all the details that we've had to be vague about until everything was signed, sealed and delivered.
Sitting there, watching batches of Big Al's thick hair roll down to the floor, that eminent image of Snoopy saying, "Keep looking up. That's the secret of life," resonated throughout.
LOOK: Here's where people in every state are moving to most
Inside New Bedford's Capitol Theater
New Bedford's long-dormant Capitol Theater is set to undergo a $6 million restoration project that will convert the former movie house into a mixed-use facility. Here's how it looks today.
WARNING: Under no circumstances should you enter this property. By doing so you risk bodily harm and/or prosecution for trespassing on private property.
More From WBSM-AM/AM 1420