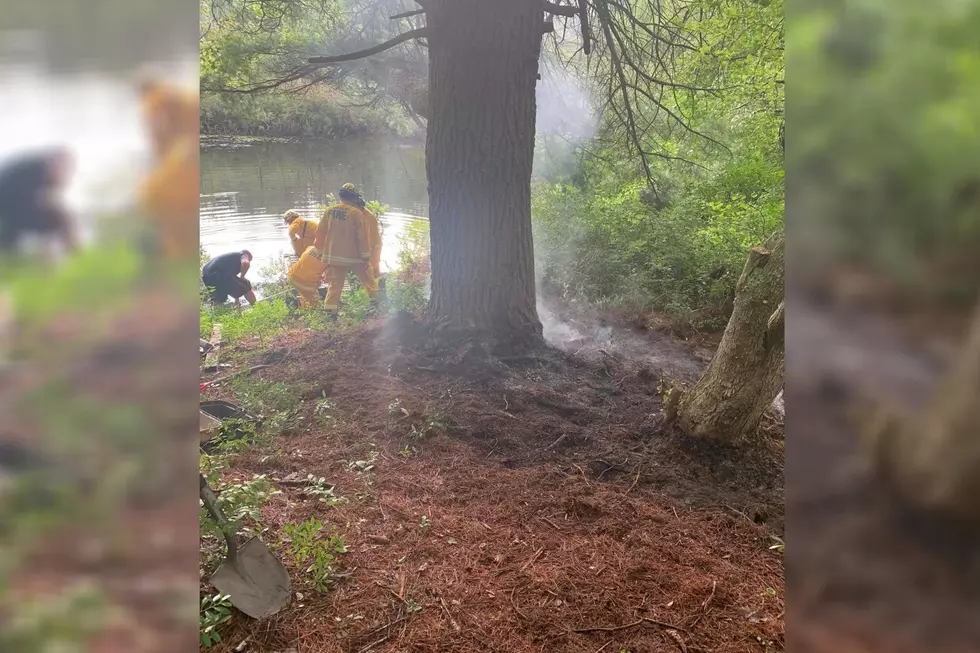 Wildfire Risk Persists in Southeastern Mass as Drought Continues
Wareham Dept. of Natural Resources
Drought conditions continue across the state, water conservation is needed, and wildfire risk remains high, state officials said Friday.
Rainfall totals for August were below normal across the state, and particularly low across Southeastern Massachusetts, Cape Cod, and and Islands. August temperatures averaged 2 to 4 degrees above normal and streams remain dry, said Energy and Environmental Affairs Secretary Kathleen Theoharides. As a result, grasses, shrubs and forest fuels are dry across the state, and extremely dry in parts of Southeast Massachusetts.
Wildfire risk remains elevated, and there have been brush fires across the region this summer. Just this week, the Wareham Fire Department responded to the Maple Springs Wildlife Management Area to extinguish a fire caused by careless activity at an illegal campsite. The fire was near the Myles Standish State Forest and Algonquin Gas Transmission Line, and the Wareham Department of Natural Resources said without quick action, the situation could have gotten out of hand.
Certain "drought-induced fires" can burn deep into the ground, taking multiple days to extinguish. Such ground fires, where tree roots and other organic material remain smoldering, can exhaust local resources. In July, a persistent ground fire in the northern woods of Fall River near the Copicut Reservoir off Indian Town Road challenged local crews and required help from a special state outdoor firefighting force. It's believed that fire was started by a lightning strike.
David Celino, Chief Fire Warden for the state's Forest Fire Control Program, said the ground fire in Fall River started July 16, burned five acres, then smoldered underground until July 28, when it re-emerged. "It's tinder dry out there," he said at the time. "Such ground fires take advantage of root systems. They adapt well, and they go deep."
Theoharides on Friday declared a Level 2 Significant Drought across the state. With no significant rain in August, the drought level remains unchanged from the previous month. As outlined in the Massachusetts Drought Management Plan, a Level 2 drought means conditions are significantly dry and warrant detailed monitoring, close coordination among state and federal agencies, and water conservation. The declaration was informed by the state's Drought Management Task Force and will remain in effect until water levels return to normal.
"Although recent rain events have been helpful, the combination of four months of below normal rainfall and consistently above normal temperatures throughout the summer have led to very dry conditions in every region of Massachusetts," said Theoharides.
She said all levels of government are coordinating to address critical drought conditions. People are being asked to be careful when using outdoor grills or other open flames, and to refrain from disposing of lit cigarettes by simply tossing them on the ground. People should call 911 immediately if there is a fire.
The state is asking all residents to reduce indoor water use, including fixing plumbing leaks as soon as possible. Theorharides said limiting nonessential outdoor watering is one of the most effective ways to minimize the impacts of drought on water supply and the environment, and ensure there is enough water for fire protection.
The point of conservation is to ensure that there is enough water for drinking and household use, for fire protection, and for habitat, state environmental officials said.
Drought Task Force officials said the state's streams saw some replenishment in July because of scattered rainfall. However, within the first two weeks of August, conditions seem to have worsened, with overall monthly streamflow levels well below normal in most regions.
Enter your number to get our free mobile app
More From WBSM-AM/AM 1420