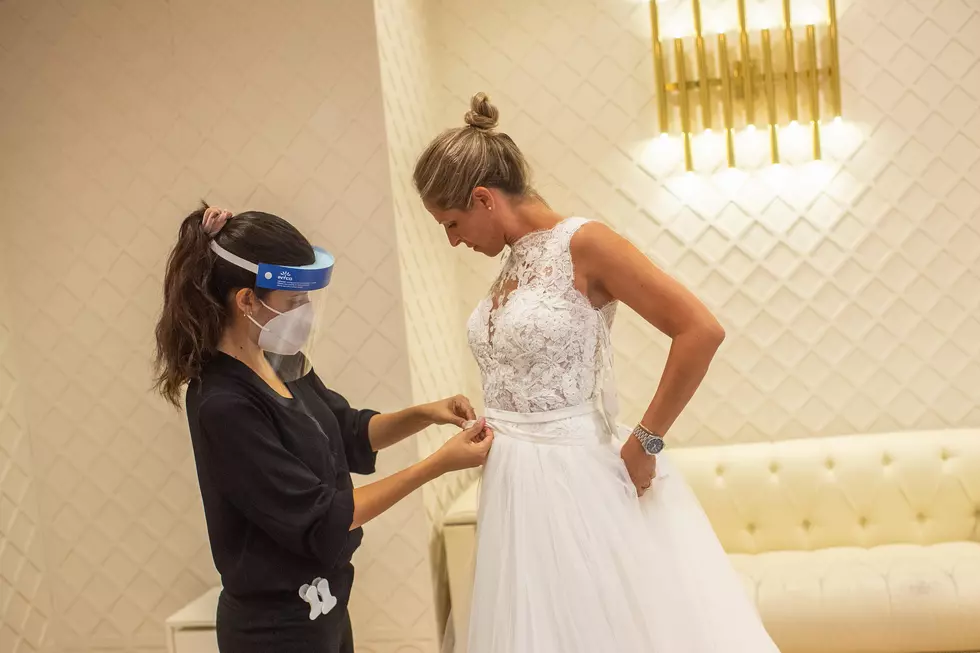 What the Massachusetts Reopening Plan Means to a 2021 Bride
Getty Images
I don't know how many hours of sleep I've lost this last year trying to come up with seven different contingency plans for our wedding. On top of just trying to survive this pandemic, my fiancé and I have been tasked with planning this big event at a time when there are more questions than answers. And we were one of the lucky ones because our original date was scheduled for 2021. We aren't one of the thousands of couples who were forced to postpone their 2020 wedding, in some cases more than once.
We didn't know how many of our loved ones would be able to share the day with us in person. We didn't know if we'd be able to have a dance floor and a DJ to celebrate this milestone. We didn't even know if our venue would be allowed to open in time for our wedding date because the COVID-19 restrictions prohibited more than 10 people gathered indoors.
Well, that all changed when Governor Charlie Baker announced at a press conference on Thursday, February 25 that Massachusetts was moving forward with the reopening plan. As of Monday, March 22, the commonwealth will enter Phase Four, Step One. Subject to state health data, Massachusetts will allow event venues to host gatherings of 100 people indoor and 150 people outdoor. In addition, dance floors are once again permitted to be a staple for a wedding celebration.
I will not lie to you. I cried watching that press conference. I cried because Governor Baker said the words I've needed to hear for almost a year. He confirmed that OUR wedding will happen. Sure, we may not be able to have all 175 people on our original guest list, but I'll take 100 any day. And knowing that we'll be able to dance after saying "I do" is nothing short of a miracle.
This is the first piece of good news we've received about our wedding in 11 months. Everything we've been through this last year has made us stronger as a couple and I have no doubt that we can take on the world together after getting through a global pandemic. A lot of the fun had been sucked out of this process for us, but we're glad that we can finally begin to enjoy planning our wedding without the added level of anxiety just sitting and waiting for something to happen.
In terms of planning, we can now start making decisions with an actual number of guests in mind. How many invitations should we order? How big does our cake have to be? How many rooms do we have to block with the hotel? How many centerpieces will we need? There are so many aspects of a wedding that hinge upon the guest count and we were lost with a capital "L" before 1 pm on Thursday.
To be completely honest, Greg and I would have gotten married on our original wedding date even if just our immediate families could attend. We would have found a way to celebrate safely while following the restrictions in place as of February. However, knowing that most of our extended family members will be there to witness the start of our marriage is so incredibly special. We will miss our friends, but we'll be sure to mark the occasion with them at a later time. Hopefully, restrictions will continue to loosen and the guest capacity will increase. But we will not take this for granted. We are beyond thrilled.
COVID is not invited to our wedding, but it's still trying to crash the party. Let's hope that we continue moving in the right direction so that couples everywhere will get to have the wedding of their dreams.
READ ON: See the States Where People Live the Longest
Read on to learn the average life expectancy in each state.
More From WBSM-AM/AM 1420