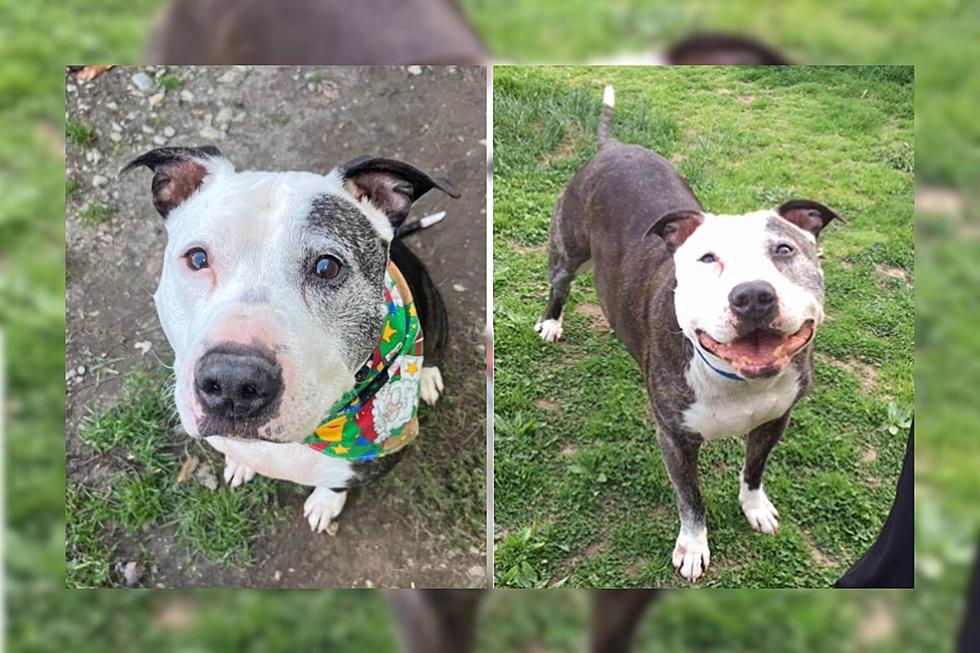 Taunton Pit Bull Remains Loving After Enduring 11 Tough Years [WET NOSE WEDNESDAY]
Friends of Taunton Animal Care Facility
Happy Wet Nose Wednesday! Another week, another animal to brag about.
Hundreds of animals on the SouthCoast are waiting for a place to call home, and thanks to local shelters in the area, these animals are getting a second chance at happiness.
Animals shouldn't have to grow old in a shelter, so each week we spotlight one lucky animal on the SouthCoast in hopes of finding them a forever family.
No animal deserves a loving home more than this dog.
Meet Lucky, an 11-year-old pit bull mix at Taunton Animal Shelter in Taunton. Lucky has had a rough life.
"Lucky's life has not been easy, but he is ready to turn the page and start a new chapter with a family who will love him unconditionally," said Friends of Taunton Animal Care Facility, a fundraising campaign that helps the Taunton Animal Shelter with medical care beyond basic needs. "Despite his rough past, Lucky remains a sweet and gentle old man who enjoys the simple things in life, like car rides, walks and a soft bed to sleep on."
The past 11 years haven't been "lucky," but Lucky remains a loyal companion with a bunch of love left to give. He dreams of having a fenced-in yard to play in and spending time with his new family, surrounded by love for the rest of his life.
Pit bulls tend to have a bad reputation, but Lucky breaks the stereotype with his sweet demeanor, infectious personality and unwavering loyalty to the ones he loves.
All he needs is a chance at a forever family, and he will return the favor with unconditional love.
Does Lucky sound like a good fit for you and your family? Contact Taunton Animal Shelter online, email the Friends of Taunton Animal Care Facility at friendsoftauntonanimalshelter@gmail.com and be sure to like the shelter on Facebook.
Lucky cannot wait to meet you.
Taunton Animal Shelter
821 W Water St, Taunton, MA 02780
(508) 822-1463
New Bedford's Most Popular Dog Names for 2023
The numbers are in and these are the most popular pup names in all of New Bedford for 2022.
Is your pet's name on the list?
Fall River's Most Popular Dog Names for 2023
From Rover to Bingo, some names just make you think of dogs. But what names are folks in Fall River naming their new pets? We've got the official list of most popular dog names in all of Spindle City.
More From WBSM-AM/AM 1420