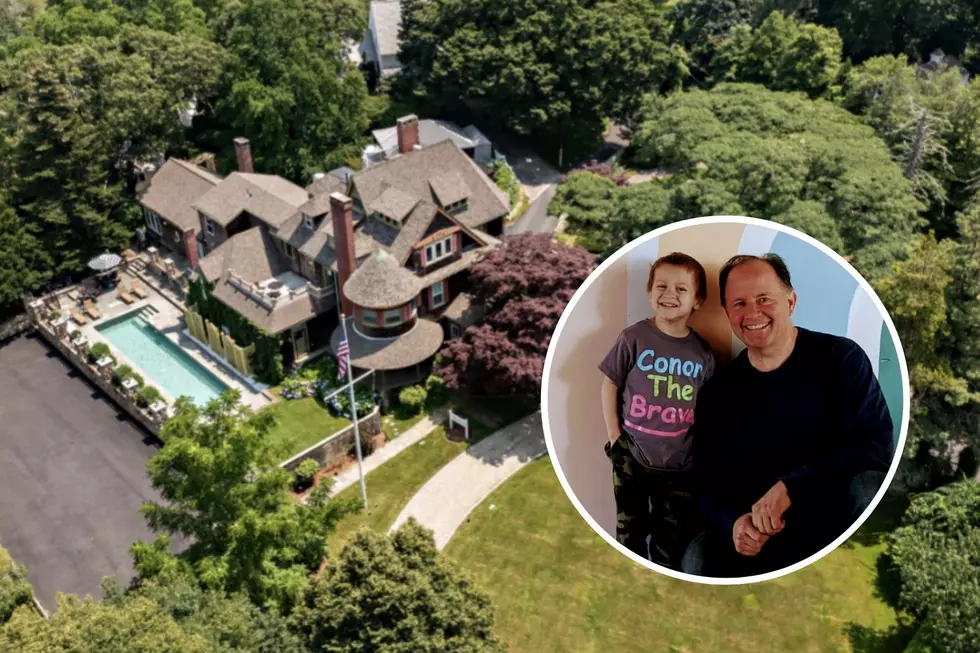 Anonymous Donor Grants $1 Million to 'Tommy's Place' for 2nd Location
Courtesy of Tim O'Connell
Last year, a magical home in Falmouth opened its doors for kids fighting cancer. It gave families a place to relax and make memories outside of their usual hospital visits at no charge to them.
Founder Tim O'Connell has accommodated 44 families at Tommy's Place since then, and just secured a second location thanks to an anonymous donation of $1 million.
The Beginning of Tommy's Place
In 2007, Tim O'Connell was renting out his house on Martha's Vineyard, when someone suddenly canceled their reservation.
"Rather than give it to friends and family, I drove to the hospital in Boston and asked if there was a family that would want to use it," said O'Connell. He remained anonymous to the family, taking care of their meals and trip to the island.
Two weeks later, O'Connell received letters from the family, expressing how grateful they were for the experience.
The family explained the pure joy and happiness that the visit gave them, and O'Connell was blown away by the impact of his small gesture.
"It just made me think that there must be hundreds of families like this," he said. "My life changed after that."
When Tim O'Connell's Life Changed Forever
He decided to run with this idea and transform his Falmouth property into an 11-bedroom, Disney-like experience to allow kids fighting cancer to just be kids for a week.
In less than a year, Tommy's Place has welcomed over 1,000 guests, and has a waiting list that extends into 2024.
"It became blatantly clear that one house would not be enough," said O'Connell.
O'Connell knew he wanted a second location to accommodate even more deserving families, but he couldn't do it alone. He began "putting it out into the universe in hopes that some angels" could help make it happen, and one day, he got an email he'll never forget.
"I opened up an email one day and I started counting the zeros. I couldn't believe it," said O'Connell. "I had to put my glasses on to double-check."
An anonymous donor pledged $1 million. Soon after, another donor contributed $500,000.
With an excellent start for funding on the second location, O'Connell is happy to announce that plans are in motion for their new place in Centerville on Cape Cod.
A Second Home for Tommy's Place
"We have identified our second Tommy's Place and have it under contract with an anticipated closing date of June 1, 2022," said O'Connell. The plan is to whittle down their waitlist and get more families enjoying "New England's own version of Disney World without the rides.
"When it comes to Tommy's Place, it has to be magic."
When the renovation of the new location is complete, the vacation home will feature nine to 10 bedrooms, a recreation room, a movie room, a built-in pool, a playhouse, a playground, putting green, and possibly basketball and volleyball areas, among other surprises.
O'Connell's dream of providing paradise to children battling cancer is becoming bigger and better thanks to the incredible donations from these anonymous angels, but the truth is, the fundraising continues.
How to Help
Call Tim O'Connell at 617-799-5494 or email him at seaport35@gmail.com to help make this oasis for children and their families a reality.
Let's take a look at the second location of Tommy's Place before the renovation process begins.
Check It Out: Tommy's Place Is Getting a Second Location in Cape Cod
Tommy's Place, created by Tim O'Connell, is a completely renovated historic inn in Falmouth that is lovingly known as "New England's own version of Disney World without the rides." It houses kids battling cancer and their families, completely free of charge, to allow them to just be kids for a week. O'Connell just landed a massive donation and is ready to renovate his second location at this historical inn on the Cape.
See Everything to Explore at the Children's Museum of Greater Fall River
The former Bristol County Superior Courthouse on North Main Street in Fall River has transformed over the last decade into the home of the Children's Museum of Greater Fall River. From exhibits that local families know and love to those totally new features that have debuted in recent months, one thing is for sure: This museum is a must-see SouthCoast attraction and we have the pictures to prove it.
More From WBSM-AM/AM 1420