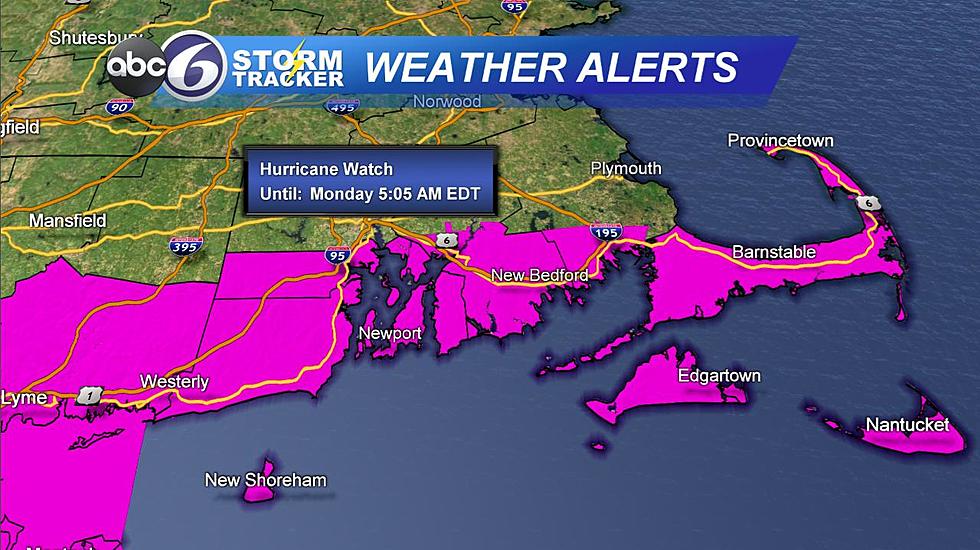 Tips for Residents as Marion Prepares for Storm Henri
Courtesy ABC6
MARION — Marion residents may get a reverse 911 call with instructions or urgent information as town officials prepare plans ahead of Tropical Storm Henri, which is nearly at hurricane strength and is expected to impact southern New England Sunday.
Town Administrator James McGrail and the Marion Emergency Management Team have plans in place to evacuate residents or open a local shelter if needed, according to a town press release.
Town officials are working closely with the Massachusetts Emergency Management Agency as the situation is updated.
If necessary as the storm approaches, residents may receive a reverse 911 call with instructions or other urgent information, the press release stated.
Marion officials expect to meet again Saturday and will provide additional updates to residents via the town website and Facebook as well as town e-Alerts.
Homebound residents or senior citizens in Marion can call the Council on Aging at 508-748-3570 with questions or concerns.
If you reach the voicemail, leave a name and number and you will receive a call back.
The entire SouthCoast region is currently under a Hurricane Watch and a Storm Surge Watch.
Safety precautions residents should follow to prepare for a hurricane or tropical storm include:
If possible, don't leave the house.
Check flashlights and portable radios to confirm they're working.
Fully charge your cell phone, laptop and any other devices before the storm.
Check the batteries in smoke and carbon monoxide detectors.
If you own a car, make sure its gas tank is at least half full in the event you need to travel.
Purchase a car phone charger so that you can charge your device if you lose power at your home.
Ensure that you have an emergency kit that has basic medicine and bandages. Include disinfectants, hand sanitizer and other cleaning supplies that you may need in an emergency due to the COVID-19 pandemic.
Have an emergency food supply in case of a power outage. People should have supplies to sustain their families for at least 72 hours.
Set your refrigerator and freezer to their coldest settings (remember to reset them back to normal once power is restored). During an outage, minimize the number of times you open the refrigerator or freezer door.
Prepare your home by securing or bringing in outdoor objects (patio furniture, children's toys, trash cans, etc.) that could be swept away or damaged during strong winds or flooding.
Elevate items in your basement in case of flooding, check your sump pump, unplug sensitive electronic equipment, park vehicles in areas that are unlikely to flood and remove boats from the water.
For boat owners:
Remove your boat from the water or add extra lines to secure it.
Be sure to have plenty of extra line, chafing gear and fenders. Fully charge the battery.
Ensure that your vessel is as watertight as possible. Remove all non-permanent equipment.
MEMA recommends purchasing a generator to maintain electricity in an outage.
NEVER run a generator indoors, in a garage or with the exhaust facing the home or home air intakes.
Pack a bag with important items in case you need to evacuate. Don't forget to include needed medications and any valuable personal belongings.
Be a good neighbor. Check on family, friends, and neighbors, especially the elderly, those who live alone, those with medical conditions and those who may need additional assistance.
In the event of a hurricane, residents are also encouraged to know if they live or work in a hurricane evacuation zone, develop a family emergency plan and create an emergency kit.
In the event of flooding:
Don't attempt to drive through large puddles or on flooded roads, which could threaten your safety. Just 6 inches of moving water can knock you down, and 2 feet of water can sweep your vehicle away.
If there is a chance of flash flooding, move immediately to higher ground. Flash floods are the number one cause of weather-related deaths in the U.S.
If floodwaters rise around your car and the water is not moving, abandon the car and move to higher ground. Do not leave the car and enter moving water.
Avoid camping or parking along streams, rivers and creeks during heavy rainfall. These areas can flood quickly and with little warning.
After a storm passes through the area, residents should remain cautious. Heavy rain and strong winds can cause a multitude of problems like power outages, fallen debris and floods that often block roads and emergency vehicles, prolonging damage.
Call 9-1-1 to report emergencies, including downed power lines and gas leaks.
Stay away from downed utility wires. Always assume a downed power line is live.
If your power is out, follow MEMA's power outage safety tips. Report power outages to your utility company. Do not call 9-1-1 to report an outage or to ask about power restoration.
Stay informed by receiving alerts, warnings, and public safety information before, during and after emergencies.
LOOK: The most expensive weather and climate disasters in recent decades
Stacker
ranked the most expensive climate disasters by the billions since 1980 by the total cost of all damages, adjusted for inflation, based on
2021 data from the National Oceanic and Atmospheric Administration (NOAA)
. The list starts with Hurricane Sally, which caused $7.3 billion in damages in 2020, and ends with a devastating 2005 hurricane that caused $170 billion in damage and killed at least 1,833 people. Keep reading to discover the 50 of the most expensive climate disasters in recent decades in the U.S.
More From WBSM-AM/AM 1420