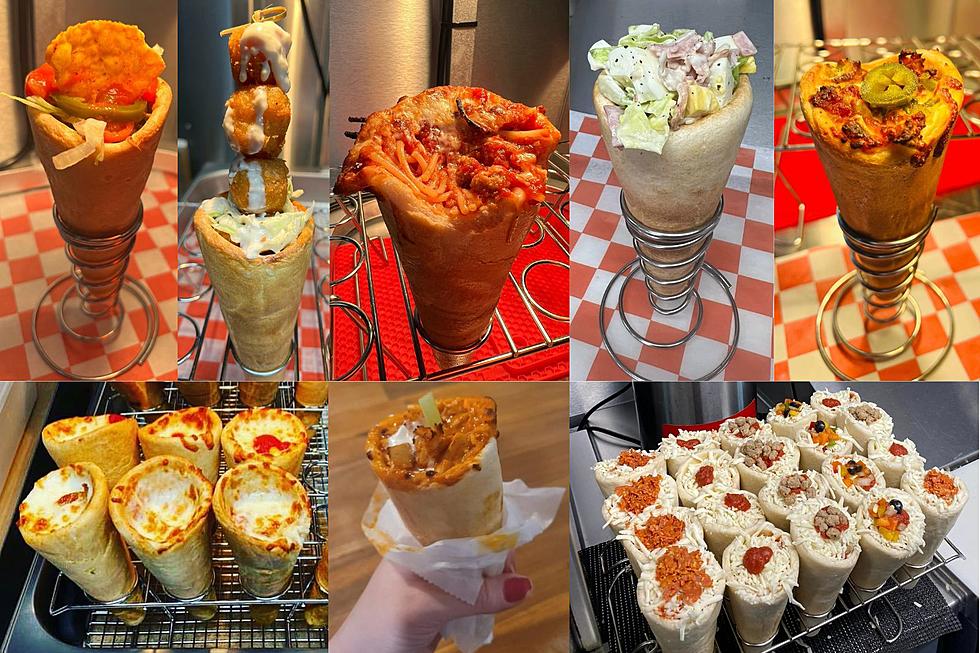 This Cape Cod Food Truck Is Rolling Out a New Way to Eat Pizza
Kono Pizza Cape Cod/Facebook
It's safe to say that pizza is among the most universal menu items out there and it's darn good too.
There's so much you can do with a pizza and the toppings are almost endless. Whether you're in the mood for a plain cheese pizza or something with a kick like buffalo chicken, there's something for everyone.
(By the way, if you have yet to treat your tastebuds to a dessert pizza, like the kind offered at a restaurant in Tiverton, you're missing out.
Kono Pizza Cape Cod, too, is taking the pizza game to a whole different level. Allow me to introduce to you the pizza cone, a revolutionary way to eat pizza. It's shaped like an ice cream cone, but it's comprised of pizza dough and stuffed with more than a dozen pizza toppings.
Kono Pizza travels all through the Cape and Wareham with an ever-changing schedule.
It's run by Martin and Mary Raynor of Bourne. Together, the couple has been slinging pizza cones for almost four years.
Choose from options such as the bacon chicken ranch, the Hawaiian, the steak and cheese, the buffalo chicken, or even the lobster cone, which mimics a lobster roll inside of rolled-up pizza dough. Each pizza cone is made to order and takes an average of three to five minutes to prepare.
To sweeten the deal, you can even indulge in some of their dessert cones including the strawberry cheesecake, peanut butter pie or even the Pumpkin Gooey.
If you're overwhelmed, the Raynors' go-to cones are the supreme as well as the buffalo chicken, and the crowd favorite is the pepperoni. The price of each cone varies from $7 for a simple cheese cone to $19 for the lobster (based on market price).
Looking to try one of these mouth-watering and unique pizza creations? You can catch the truck on Friday, April 21, 4 to 8 p.m., at Lucky Goat Brewing in Wareham, and Saturday, April 22, at the Plimoth Grist Mill Herring Run Celebration, 11 a.m. to 4 p.m.
Seize the Deal Restaurants Worth Checking Out
We've built up a huge inventory of some of half-priced gift cards to some of your favorite restaurants all across the SouthCoast. There's something for everyone. You'll be surprised where you can eat at half price.
15 SouthCoast Menu Items We Wish We Had the Recipe For
From Portuguese food to sweet treats, these local dishes are a crowd favorite we wished we had the recipe for.
Your Complete Guide to Outdoor Dining on the SouthCoast
We compiled a list of all of the restaurants on the SouthCoast that offer outdoor dining. That's right. We did all the legwork for you. Now all you have to do is pick one and call to make that reservation so you can dine al fresco tonight.
*UPDATE: This post was revised in April of 2023.
More From WBSM-AM/AM 1420