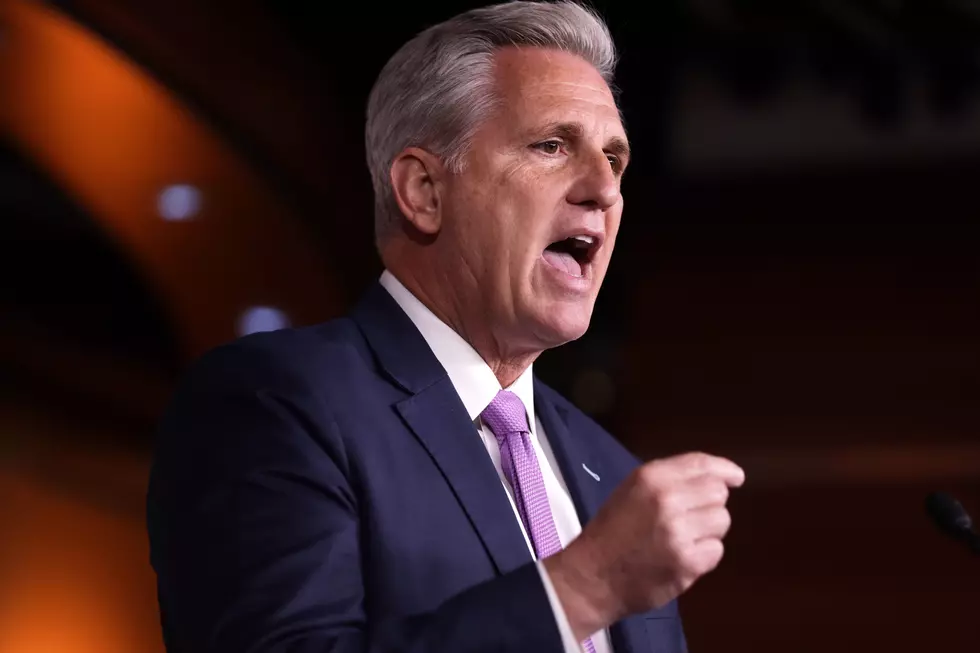 SouthCoast's Congressmen Speak Out on Speaker of the House Vote
Getty Images
As of this writing, 12 ballots have been cast in the U.S. House of Representatives to elect a Speaker of the House for the next session of Congress and no speaker has been elected.
The last time it took 10 or more ballots to elect a a speaker was 1859, one year before Abraham Lincoln was elected President of the United States.
Rep. Kevin McCarthy (R-California) has failed to earn enough support of his Republican colleagues who hold a narrow majority in the lower chamber, with his current vote total hovering around 200. It will take 218 votes, a simple majority of the House, to elect the speaker.
Meanwhile Rep. Hakeem Jeffries (D-New York) continues to earn 212 votes for speaker, which makes up the entirety of the Democrats elected to House this term.
Many Democrats who were elected to serve in Congress have taken to social media and used this moment to draw contrasts between the two parties. This includes both of the SouthCoast's representatives, 9th District Rep. Bill Keating and 4th District Rep. Jake Auchincloss.
Keating, who has served in Congress since 2011 and whose district includes New Bedford and the eastern half of the SouthCoast, had recently quipped on his Twitter and Facebook that McCarthy's prospective speakership is doomed if it even begins.
"Waiting while the speaker nominee scrambles to be captain of a pirate ship with a crew already planning his mutiny," Keating wrote.
Keating's comment is likely in reference to one of McCarthy's concessions to the approximately 20 Republican reps in the far-right House Freedom Caucus opposing his election. McCarthy has agreed to allow the reinstatement of a rule that any member of the House can initiate a vote to oust the speaker at any time during the House's two-year session.
Many argue that invoking this rule, along with the other concessions he has made that include appointing two members of the Freedom Caucus to the powerful House Rules committee, will make McCarthy the least-powerful speaker in the House's more than two-century history.
Auchincloss, who was reelected to his second term in Congress and represents Fall River and the western half of the SouthCoast, recorded a five-minute Q&A on his Twitter account to explain what is happening and how it is currently impacting the operations of Congress.
"The Republicans are increasingly finger-pointing about who's fault it is, what they want, and why they are being intransigent," Auchincloss said.
Auchincloss also explained that until there is a new speaker elected, the House cannot swear in new members and begin the work they were elected to do such as take votes, draft legislation, or get the security clearance needed to be briefed on matters of national security.
"We're in a state of suspended animation where the House of Representatives doesn't have leadership, doesn't have committees, and doesn't have the requisite privileges for members to actually do our business," he said.
The second-term Congressman also remarked on how Democrats have had no internal struggles about who they want to lead the party and how they want to move forward.
"Democrats are united and energized behind Hakeem Jeffries," Auchincloss said. "We have a new generation of leadership: Hakeem, (Massachusetts Rep.) Katherine Clark, and (California Rep) Pete Aguilar. They have the confidence of the caucus."
While conversely, Auchincloss argued, the Republicans' continuous failed effort in electing a leader has become a spectacle.
"It's a game of musical chairs and finger-pointing that could be entertaining if it weren't so disappointing," he said.
WBSM's Most-Viewed Stories of 2022
New Year's Resolutions for SouthCoast Cities and Towns
The year 2023 is upon us, and we've made some suggested New Year's resolutions for some select SouthCoast cities and towns.
More From WBSM-AM/AM 1420