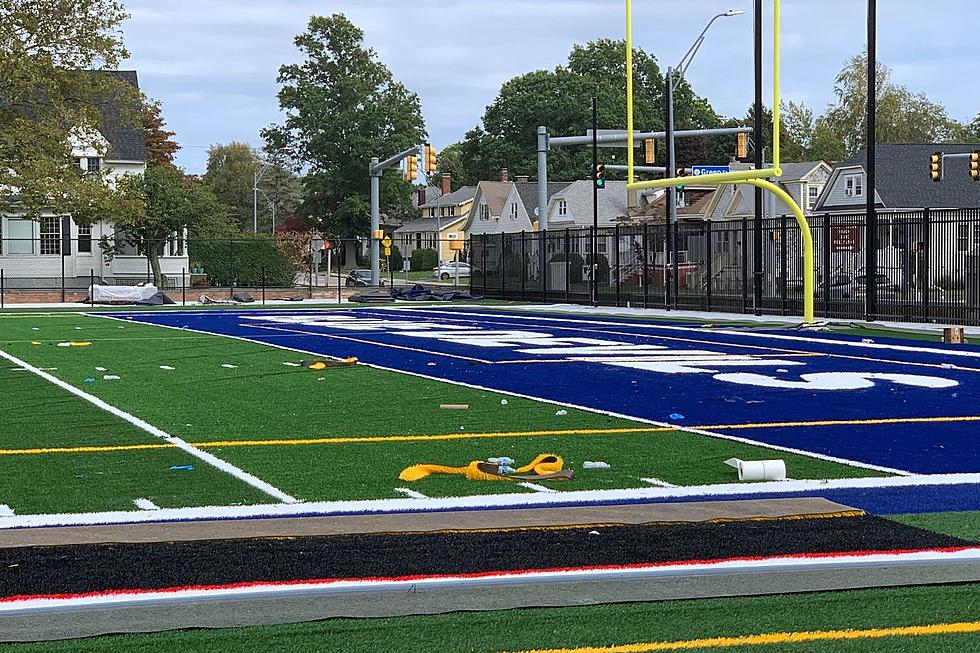 SouthCoast Football Teams Scramble for Alternate Fields to Play Home Games
Michael Rock/Townsquare Media
When Fun 107 planned out its Friday Night Lights schedule, we circled September 24 on the calendar. That was supposed to be the big debut of Fairhaven High School's brand new, multi-million dollar field. The Blue Devils will still be hosting the Greater New Bedford Voc-Tech Bears, but it will be on a neutral field. The game will take place in Taunton Friday night at 7:30. While technically a "home" game for Fairhaven, it just won't feel the same.
New Turf Projects Affecting Game Locations
This is not a problem unique to Fairhaven this year.
Bishop Stang High School is in the process of installing three new turf fields. In essence, the exterior of the entire Stang campus is getting a makeover and will be equipped with new turf. That project will not be done for a few more weeks, so they have had to find alternative ways to play their home games. Last week Bishop Stang hosted Old Rochester Regional High School at McCoy Field in New Bedford.
How Is Old Rochester's Field?
Old Rochester has had problems with their main field for years. "I wish I had the same problem as Fairhaven's problem," laughed ORR Athletic Director Bill Tilden. "I'd play away for a year if it meant getting new turf in here."
Two years ago, the Tri-Town put a new turf field proposal to a vote. The measure passed in both Mattapoisett and Marion, but failed in Rochester, killing the proposal in its tracks.
"My field is the best it's looked in 20 years," Tilden said. "Between the long break during COVID, followed up with a very short Fall 2 season this spring – plus, this is the most kind mother nature has been in years. We had a summertime with plenty of rain every week, it was almost better than having an irrigation system. The ORR field looks amazing and we're hoping to keep it that way."
How Many in America: From Guns to Ghost Towns
Can you take a guess as to how many public schools are in the U.S.? Do you have any clue as to how many billionaires might be residing there? Read on to find out—and learn a thing or two about each of these selection's cultural significance and legacy along the way.
More From WBSM-AM/AM 1420