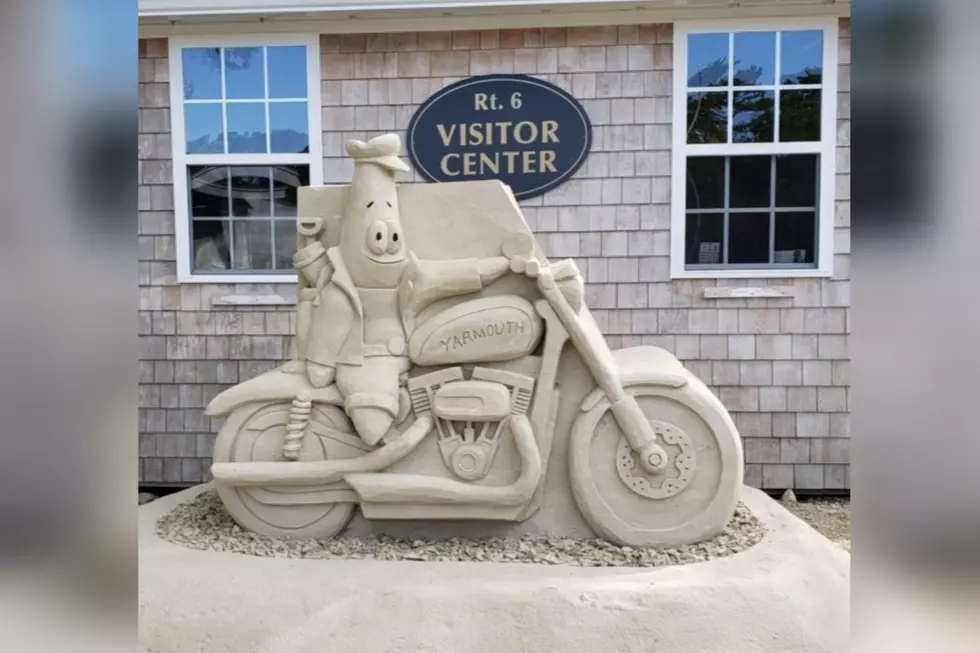 Sand Sculptures Outlast Trees, Buildings in Cape Cod Tornadoes
Photo courtesy the Yarmouth Chamber of Commerce.
YARMOUTH — After two tornadoes on Cape Cod damaged trees and telephone poles, knocked out power for tens of thousands of people and ripped the roof off a hotel on Tuesday, 33 sand sculptures turned out just fine.
The sculptures, created for the Yarmouth Sand Sculpture Trail, were left completely unscathed from the two twisters.
Street artist Sean Fitzpatrick of Fitzysnowman Studios, who created the artwork, said he was pleased by the news, but not really surprised. Fitzpatrick explained that the sculptures are extremely strong, due to the care that is taken with material and construction.
Fitzpatrick and his team use finely ground sand with sharp edges that interlock when the material is wetted down and compacted. He says artists work for hours to make sure that each sculpture is thoroughly packed to remove air between the particles – ensuring structural integrity before the real sand sculpting begins.
Once finished, each sculpture is sprayed with a thin solution of Elmer's Glue and water, which seals out the elements. Fitzpatrick likened the seasonal sculptures and their protective coatings to the paint on a house.
"The paint on the walls is made to protect the walls, but it doesn't hold up the house," said Fitzpatrick.
"The overall strength of the sand sculptures comes from the compaction that we do."
Previous artworks along the annual trail have incurred some storm damage, but they generally stood up to the elements, Fitzpatrick said. He noted that last year's sculpture at the Yarmouth Chamber of Commerce Visitor Center on Route 28 was still in great shape when workers took it down in October. "They could have kept it up for another couple of months."
The biggest thing that causes damage to the sculptures is that people sometimes can't resist the urge to touch them, he explained. If they break the sculpture's thin seal, water can get in and cause damage.
Fitzpatrick, who was off Cape during this week's fierce weather, said he was glad to learn that despite the many downed trees and damage to personal property, there appeared to be no serious personal injuries.
The Yarmouth Sand Sculpture Trail – billed as the largest sand sculpture trail in the nation (and maybe the world) – is created at the start of each summer at local businesses and public places in Yarmouth. It includes a photo contest, offering prizes to winners in multiple categories. Find a detailed description of the 2019 photo contest with instructions and rules at the Yarmouth Sand Sculpture Photo Contest website. The website also has a downloadable map of the 2019 Yarmouth Sand Sculpture Trail.
More From WBSM-AM/AM 1420