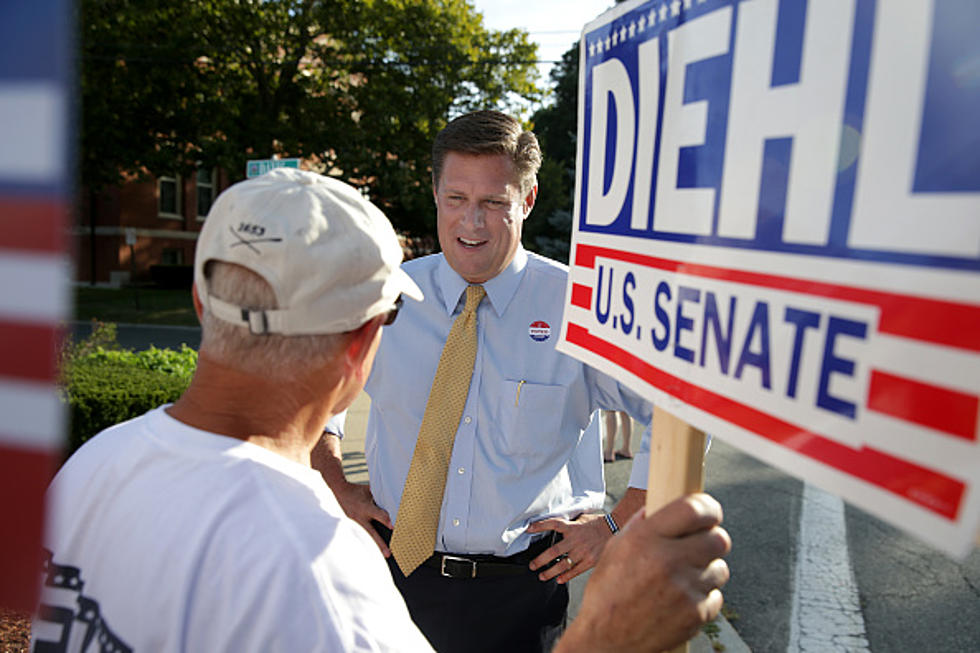 Rep. Geoff Diehl Is Winning the Endorsement Battle [OPINION]
Boston Globe via Getty Images
Rep. Geoff Diehl is challenging Democrat Liz Warren for her seat in the U.S. Senate. He has earned a solid group of endorsers as the underdog in this campaign.
I recently wrote a column about the endorsement Diehl received from a former longtime legislator and mayor of Fall River, Robert Correia. This is the honest mayor of Fall River, and not the one who was recently arrested by the FBI on numerous counts of financial fraud. Honest Correia spent his life as a public school teacher and an elected Democrat official. He has crossed over party lines to endorse Republican Geoff Diehl.
Another Democrat has also crossed over to endorse Diehl in his uphill fight for the Senate. Dr. David F. Constantine, the former Governor's Councilor from New Bedford, recently crossed party lines to support Diehl.
I have seen some criticism by Democrat supporters of Sen. Warren about these two endorsements. These supporters are absolutely within their right to undermine their fellow Democrats who are supporting Diehl, and they are demonstrating an admirable level of loyalty to their nominee.
Their criticism is also within the bounds of normal political warfare. Nobody from the Warren team is chasing down the former Governor's Councilor or mayor in public places or shouting them out of restaurants. When Diehl announced his Senate campaign in New Bedford, the local supporters of Senator Warren held signs at the same time. Under the leadership of New Bedford City Councilor Dana Rebeiro, they held signs about a half a mile away to support the Democrat. It was a show of support and a show of respect for the political process.
The main criticism I have seen about the Democrats supporting Diehl is that they don't represent Democrats anymore, and they have been unofficially kicked out of the Democratic Party already. That isn't an inaccurate line of attack, but it doesn't benefit the Massachusetts Democratic Party, either.
There are plenty of Democrats who support the ideas of Dr. Constantine and Mayor Robert Correia, and they will be voting on Tuesday. These are Democrats who support the local police and don't believe the police are racist. There are lots of Democrats who have family members who are police officers; there are even police officers who are Democrats. There are lots of Democrats who go to a church on Sunday, and some go more often.
There are lots of Democrats who go hunting, and they are insulted every time they hear themselves lumped in with criminals and maniacs. There are lots of Massachusetts Democrats who know how strict the gun laws are here, and they cringe when Sen. Warren claims they have access to "weapons of war," because it isn't true. They also wonder if she is lying or if she is completely ignorant on the matter. She is a member of the Senate Armed Services Committee, so most hope she is just lying, because the alternative means she is a danger to national security
Fall River's Bob Correia and New Bedford's Dr. Constatine won lots of elections before they left politics. The people that elected them to office will be showing up on Tuesday to vote.
Nobody likes to be told they aren't invited to a party, even if it is a political party. But this year, they have an invitation to another party, the Geoff Diehl party, and they will see lots of other old friends and family members at the punch bowl.
Chris McCarthy is the host of The Chris McCarthy Show on 1420 WBSM New Bedford. He can be heard weekdays from 10 a.m. to noon. Contact him at chris.mccarthy@townsquaremedia.com and follow him on Twitter @Chris_topher_Mc. The opinions expressed in this commentary are solely those of the author. 
More From WBSM-AM/AM 1420