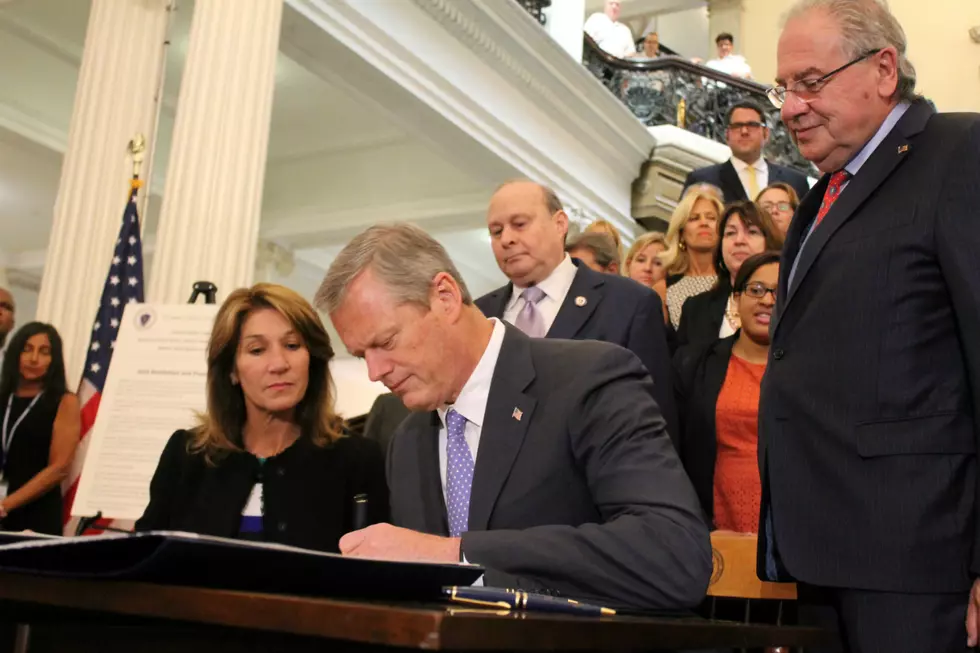 Rep. Cabral Joins Gov. Baker, Lawmakers in Proclamation Against Hate Groups
Gov. Charlie Baker signed a proclamation Thursday condemning white nationalist hate groups. Senate President Stan Rosenberg and House Speaker Robert DeLeo signed identical joint resolutions. Sam Doran/SHNS
BOSTON — A joint proclamation and resolution denouncing white nationalist and neo-Nazi beliefs was signed by Governor Charlie Baker Thursday, and endorsed by the legislature, in a ceremony at the State House in Boston.
Baker, along with Senate President Stanley Rosenberg and House Speaker Robert DeLeo, condemned the hate groups for "poisonous idealoglies," and declared them "menaces to societal order."
Copies of the resolution, which was adopted by the House and Senate during their brief sessions Thursday, will be sent to Charlottesville, Virginia Mayor Mike Signer, Virginia Governor Terry McAuliffe and President Donald Trump.
Representative Antonio Cabral of New Bedford tells WBSM News it's very important to get the message that the leaders and citizens of Massachusetts do not support any of these hate groups.
"The events of last weekend in Virginia is certainly a direct assault on our core values," Rep. Cabral said. "And I think we needed to send a clear message that in Massachusetts, and in the rest of the country, that this is not acceptible."
"This was a bipartisan effort, with bipartisan support," he said. "Hopefully, this will send a clear message that in Massachusetts, we don't accept these acts. We are united, and we are fighting for justice, tolerance and equality. That's what we should be doing. We should be fighting bigotry and hate."
Although Rep. Cabral pointed out that this proclamation came from "both sides of the aisle" and that state lawmakers have been "universal in this message," he did take exception with President Trump's comments on Tuesday regarding what happened in Charlottesville.
"The President of the United States should be uniting the country, not dividing, with his remarks," Cabral said. "I couldn't believe what I was seeing. He was saying completely the opposite of what he said (Monday). I don't think he represents our core values. It's important for the president to actually take a strong position against neo-Nazism and white supremacy and all these hate groups out there. We need a moral compass, and that should be coming from the White House as well."
Rep. Cabral said he feels Massachusetts doesn't have the same amount of hate groups as may be in other areas of the country, but there are still pockets of them in the Commonwealth.
"They do pop up," he said. "And I think this whole discourse from the President of the United States, since the campaign and it continues, encourages these folks to come out and show their colors."
Rep. Cabral says it's very important that this was done ahead of this weekend's planned "free speech rally" on Boston Common, which will reportedly be attended by some of the same groups that were in Charlottesville last weekend. A separate racial justice march is also planned for Saturday in Boston, which will begin at the Reggie Lewis Track and Athletic Center and end at the Common, leading to fears of a clash between the two groups.