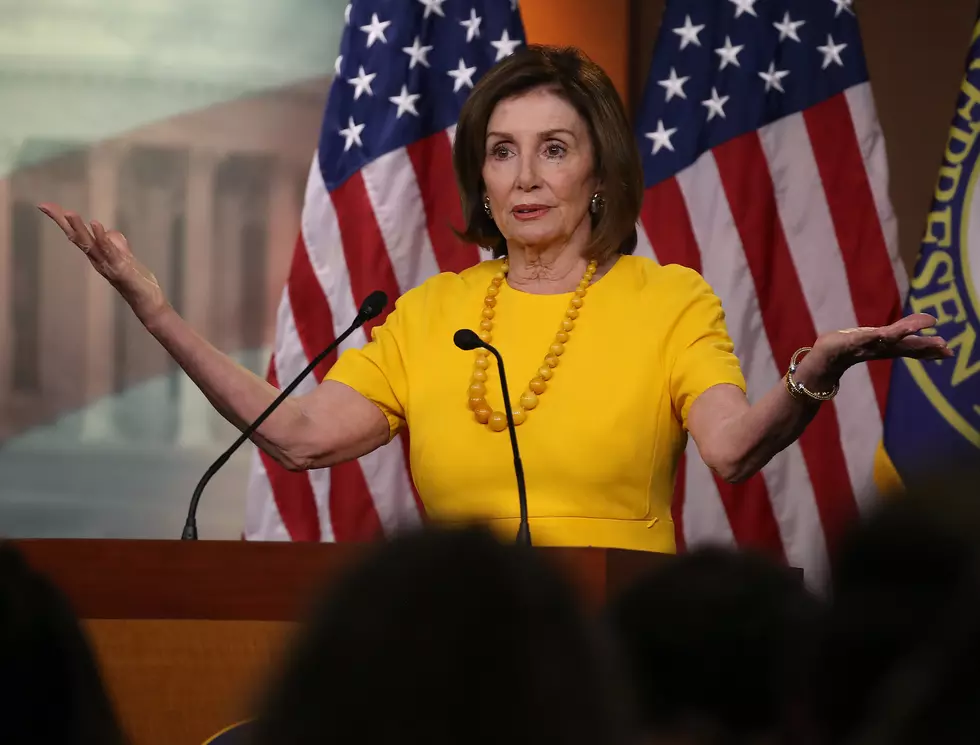 Pelosi 'Loves' Trump Just As She Does the Unborn [OPINION]
Getty Images
James Rosen, a reporter with Sinclair Broadcast Group, questioned House Speaker Nancy Pelosi (D-California), asking her if it was true that she hated President Donald Trump. She responded by saying "Don't mess with me." She began to walk away, spun on her heels and walked back to Rosen saying, "I was raised in a Catholic house. We don't hate anyone, not anybody in the world," Pelosi said. "So don't you accuse me."
Rosen responded by reminding Mrs. Pelosi that it was stated by Judiciary ranking Republican Doug Collins (R-Georgia) in the prior week.
Pelosi continued, "I think the president is a coward when it comes to helping our kids, who are afraid of gun violence. I think he is cruel when he doesn't deal with helping our Dreamers, of which we're very proud. I think he's in denial about the climate crisis.
However, that's about the election. This is about the — take it up in the election," she said. The impeachment inquiry, however, "is about the Constitution of the United States and the facts that lead to the president's violation of his oath of office."
"And as a Catholic, I resent your using the word 'hate' in a sentence that addresses me. I don't hate anyone. I was raised in a way that is a heart full of love and always pray for the president. And I still pray for the president. I pray for the president all the time," she said.
So she doesn't hate Donald Trump. Ok, well, she doesn't "hate" the unborn either, but she certainly works hard most days to ensure they have no rights to life as they come into being, guilty of nothing but being present. She fully agrees that each one should be able to be killed while in the womb and soon after they're out of the womb, too. Pelosi has stopped "Live Birth Infanticide" bills over 28 times as Speaker of the House.
Perhaps the speaker is confused?
I just think she doesn't have the integrity or honesty to admit that she hates Donald Trump. I think she hates that anyone would defend the babies created by her Catholic faith's God and she hates dealing with any reporters who are not hook, line and sinker liberals who kiss her ass.
She is also leading the charge in the impeachment hearings to find President Trump guilty of treason, a penalty that can mean death.
The way she goes around "loving" all these people, I just hope she can find it in her heart to hate me.
Ken Pittman is the host of The Ken Pittman Show on 1420 WBSM New Bedford. He can be heard Saturdays from 9 a.m. to noon. Contact him at ken.pittman@townsquaremedia.com. The opinions expressed in this commentary are solely those of the author.
Enter your number to get our free mobile app
More From WBSM-AM/AM 1420