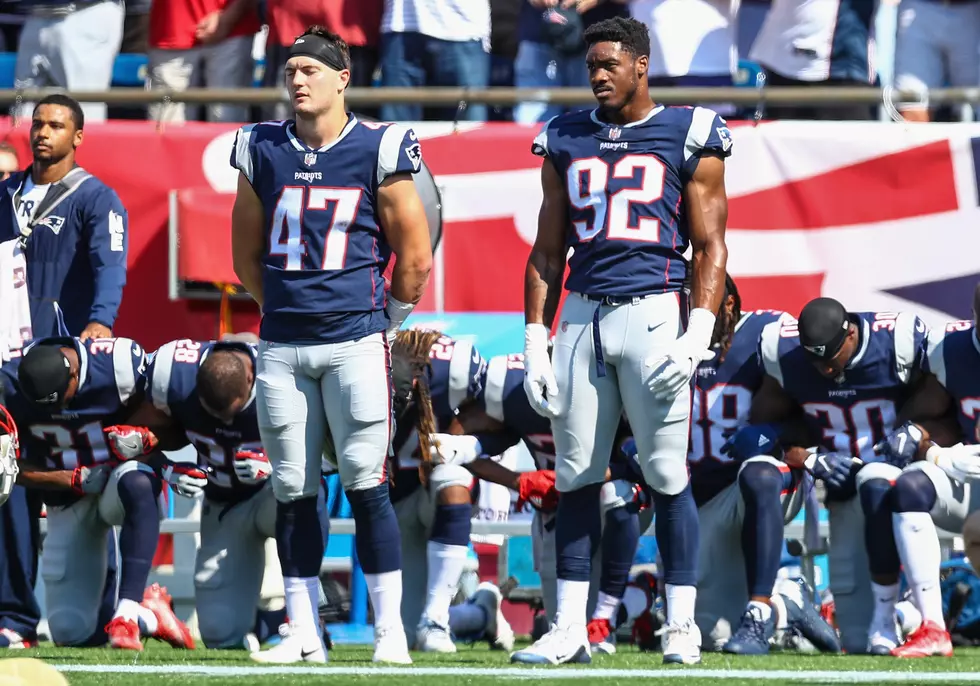 Pats Vs. Texans First Half Thoughts
Maddie Meyer/Getty Images
As the New England Patriots head into halftime of their Week 3 game against the Houston Texans with a 21-20 lead, here are some thoughts on the first half of play.
Taking A Knee- Following the divisive comments made by President Donald Trump earlier this weekend, regarding players kneeling during the National Anthem, there was a belief that many around the league would take a stance. That has been the case around the league and even in New England, as for the first time ever the Pats had multiple players take a knee during the Anthem. Multiple players also interlocked arms, as well.
Bringing The Heat- The Houston defense has been bringing the heat on Tom Brady and the Patriot offensive line, through the first two quarters. Brady has been sacked three times, and hurried and hit at least seven times more combined. The Houston defense has also scored, after Whitney Mercilus stripped Brady and Jadeveon Clowney picked the ball out of the air and brought it back for a touchdown. Houston's front has also taken away the Pats running game, as New England has carried the ball 10 time for just 28 yards. The tackle rotation of Nate Solder, Cam Fleming and LaAdrian Waddle has been picked apart by the likes of J.J. Watt, Clowney and Mercilus so far. The New England o-line will have to be much better in the second half to keep the Pats in the game.
Getting Beat By His Feet- The Patriot defense has picked off rookie quarterback Deshaun Watson and, relatively speaking, have held the Clemson product in check. Watson has been finding a way to beat the Pats with his feet, however, which helped prolong a few drives for the Texans and lead to some scoring. The defensive front has whiffed on multiple opportunities to bring Watson down for big losses so far, which played a factor in field position and some scoring opportunities as well. Keeping Watson in the pocket and limiting his ability to move down the field could be the difference in the second half.
Dealing With The Pressure- Tom Brady has been dealing with the relentless pressure brought by the Texans about as well as possible. With the exception of a couple of short- armed throws and the strip sack, Brady has found a way to neutralize the Houston rush and get his team into the endzone. On 17 attempts, the 40-year-old has completed 10 passes for 162 yards and three touchdowns. He'll need to keep getting the ball out quickly in the second half, to keep the Pats ahead.
More From WBSM-AM/AM 1420