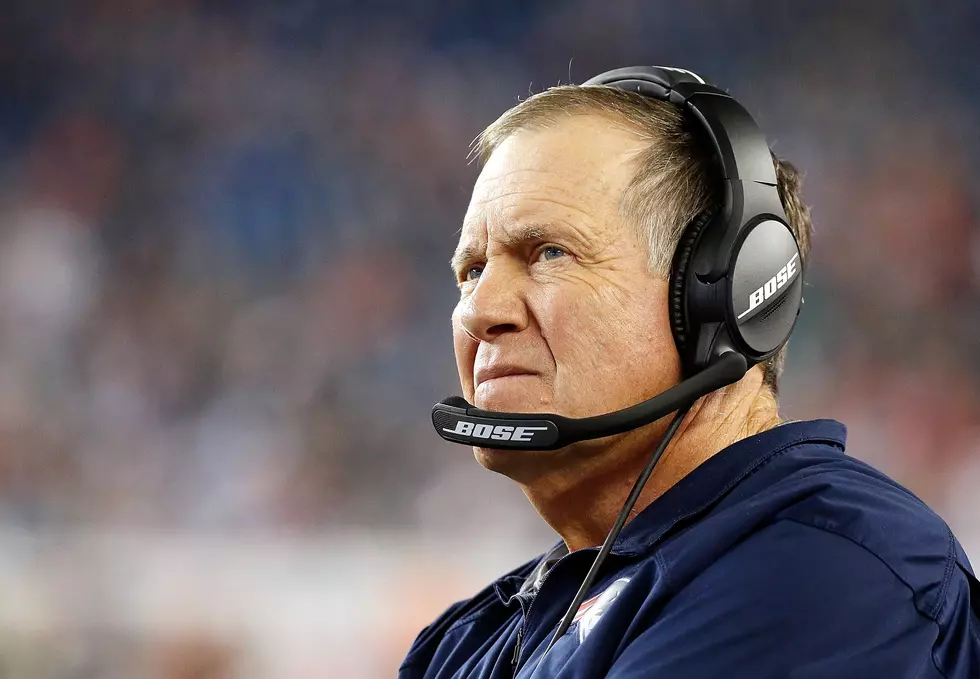 Pats Preview: Pats Vs. Falcons
Jim Rogash/Getty Images
As the New England Patriots prepare to welcome the Atlanta Falcons to town for a Super Bowl LI rematch, here are some pregame story lines to keep in mind:
Rematch- As mentioned in the lede, Sunday night's game will serve as a rematch for the greatest comeback in Super Bowl history. After jumping out to a 28-3 lead with just over a quarter left to play in Super Bowl LI, the Falcons hit a wall. Led by quarterback Tom Brady, the Patriots rattled off 31 unanswered points, over the quarter plus of action, to pull off the improbable 34-28 comeback in overtime. Atlanta will get their first shot at revenge Sunday, though the stakes will not be nearly as high as they were in the game these two played last season.
Thin In The Secondary- Once again, the Patriots will be thin in the secondary this week, as both Stephon Gilmore (Concussion) and Eric Rowe (Groin) have already been ruled out for the game. With backup corner and key special teamer Johnson Bademosi listed as questionable late this week, due to an abdomen issue, the team's depth is really going to be challenged. If Bademosi ends up being limited or can't go at all, second year corner Jonathan Jones will have to step up and see a lot of action alongside starter Malcolm Butler. Jones was expected to get a long look last week with Gilmore and Rowe out, but instead the team leaned on Bademosi, who played well in emergency action. With dynamic receivers like Julio Jones, Muhammad Sanu and Taylor Gabriel challenging them, whoever plays for New England will have to rise to the occasion Sunday.
Looking To Rebound- Not only will the Falcons be out for revenge, Sunday, but they will also be looking to rebound off a tough home loss to the Miami Dolphins last week. After taking a 10-7 lead into the halftime break last Sunday, Atlanta fell apart in the second half, getting outscored 13-7 over the final two quarters. While they out-gained the Bills by 108 yards, they turned the ball over three times, which led to scoring opportunities for Buffalo. They'll try to avoid their second straight loss to an AFC East opponent, in as many weeks, Sunday.
Need To Capitalize- The New England offense struggled to close out last week's win over the New York Jets. Multiple times, the Pats had the ball in the fourth quarter, with an opportunity to kill time and put more points on the board. Both times, they settled for three-and-outs instead. New England got away with it against an underwhelming Jets team, but they'll need to find ways to capitalize in situations like that and more often throughout games, if they want to continue to win.
Dion Time- Though he played a small role in last year's Super Bowl and throughout the first five weeks of this season, Patriots running back Dion Lewis returned to his ellusive and big-play breaking form in last week's win. With his ability to elude would-be tacklers and use quick bursts of speed to break free in open space, expect the pats to lean on him to move the ball against this fast Atlanta defense.
Full Strength- The Pats will be back at full strength in the backfield, Sunday, as running back Rex Burkhead was left off the final injury report of the week and is expected to play against Atlanta. With Burkhead back, alongside Lewis, James White and Mike Gillislee, expect the Pats to work from some two back sets and find ways to get the ball into the hands of these players. White had his best game as a pro in last year's Super Bowl and, with other dynamic backs like Lewis and Burkhead healthy and on the field with him, the Pats could look to exploit the match up of Atlanta's linebackers on their running backs, coming out of the backfield, all night long.
Turnovers Could Be Difference- In most games, the team that turns the ball over more tends to lose. That fact could bode well for the Pats, as they enter the game with a +3 turnover differential and the Falcons come in -4 in turnovers. If New England can continue to force Atlanta into giving the ball up, the Pats could be well on their way to their fifth win of the season.
Prediction- This should have it all: Two teams, who aren't where they expected to be seven weeks through the season, a rematch of one of the greatest comeback and greatest crumble in the history of the league's biggest game, two powerhouse offenses and prime-time, Sunday night coverage. That means there should be some theatrics. The Pats already lost one of these same type of games, when the fell to the Chiefs to open the season at Gillette. It would be hard to envision them falling dormant twice, at home, in a game of this hype. Everybody should buckle in and get ready for a shootout.
More From WBSM-AM/AM 1420