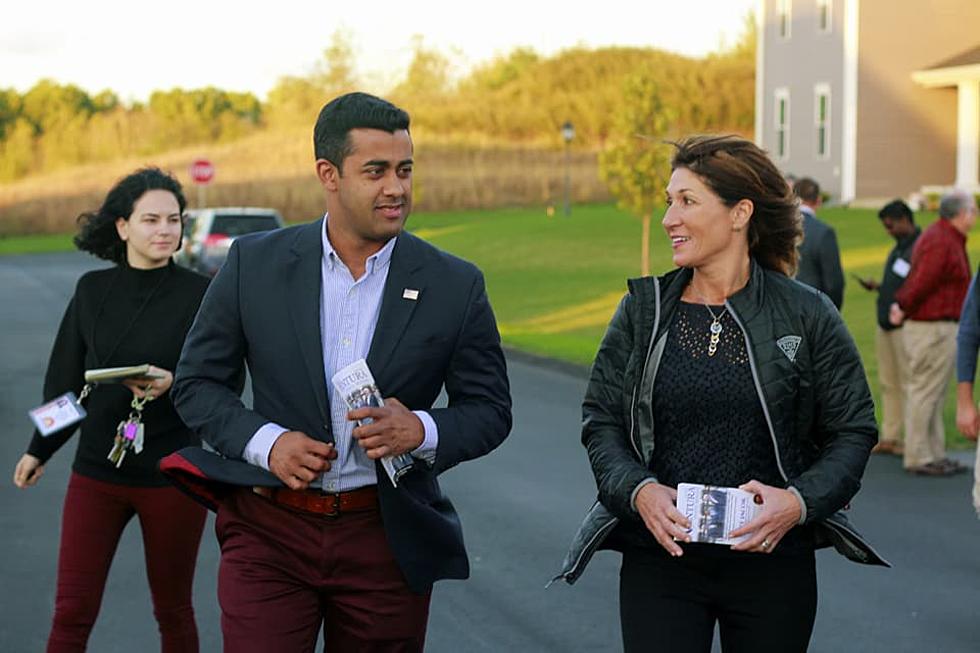 Jacob Ventura Exploring Run for New Bedford Ward 3 City Council Seat
Jacob Ventura via Facebook
Local attorney and former Senate candidate Jacob Ventura announced on WBSM's SouthCoast Tonight that he is exploring a run for the Ward 3 City Council seat in New Bedford which is soon to be vacated by outgoing Ward 3 Councilor Hugh Dunn.
Ventura said he will make a final decision on whether or not to pull nomination papers after the Thanksgiving holiday, but said "all indications" point toward him running for the seat.
Dunn announced his resignation during a November 4 appearance on SouthCoast Tonight, citing growing responsibilities as a practicing attorney at a Boston law firm. The council is expected to order a special election during their November 22 meeting with a January 24 preliminary election, and a February 28 general election.
Ventura is a private equity attorney at Ropes & Gray, an international law firm which is headquartered in Massachusetts. He previously worked as a law clerk at the Rhode Island Supreme Court, Rhode Island Bankruptcy Court, and for the Judiciary Committee for United States Congress.
Prior to practicing law, Ventura worked as a financial analyst for J.P. Morgan in Boston, and as a finance intern for the U.S. Department of Defense and the U.S. Department of the Interior.
After graduating from law school, Ventura then worked as a legislative aid for Seekonk State Rep. Steven Howitt, who represents the 4th Bristol District on Beacon Hill.
"When I spent time in the legislature I worked for a member of the SouthCoast delegation," Ventura said. "So I've spent years up on Beacon Hill working on behalf of some of the issues with some of the legislators in the city, whether it was South Coast Rail, the fishing industry, offshore wind, and MassDOT issues."
Ventura then ran in a special election for an open Senate seat in the Bristol and Norfolk District in 2018 but was defeated by Paul Feeney.
Ventura was born and raised in New Bedford before his family moved to Dartmouth. He said he moved back into the city because he believes in its promise and wants to be apart of its upward trajectory.
When asked if he was concerned with being labeled a "carpetbagger" for seeking office after recently moving back in the city, Ventura noted his roots and centuries-old lineage in the Whaling City.
He is a direct descendent of the celebrated Sgt. William Carney, a runaway slave who escaped to the New Bedford via the Underground Railroad and fought in the famed 54th Massachusetts Regiment during the Civil War.
Ventura also pointed to his Portuguese, Cape Verdean, and Native American heritage and said he has been an active member of these local communities his entire life. As a member of the Wampanoag Tribe of Gay Head (Aquinnah), he also noted that he is a descendent of Amos Haskins, the first Native American whaling captain.
But Ventura said what really matters most is that he brings the qualifications and a new perspective to the New Bedford City Council.
"In terms of the issues of the day, I bring a unique skillset with my legal background, private sector business background, as well as about 10 years government experience at both the local state and federal levels," he said.
"I think the average voter of Ward 3 just wants competent leadership and that's something I can offer," Ventura said.
Listen to Jacob Ventura's announcement with Marcus Ferro on WBSM's SouthCoast Tonight.
WBSM's Top SouthCoast Stories 11/14 - 11/20
More From WBSM-AM/AM 1420