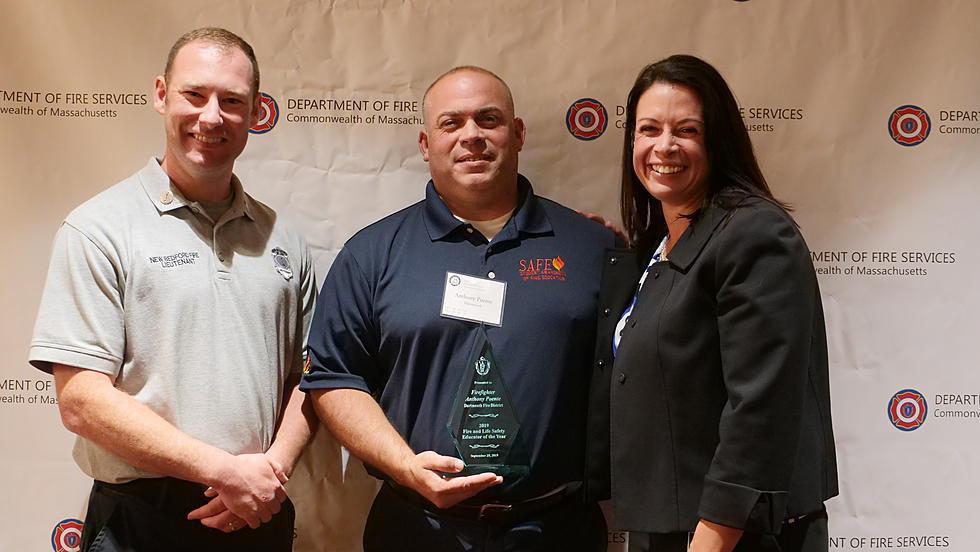 New Bedford and Dartmouth Firefighter Receives Fire and Life Safety Educator of the Year Award
New Bedford/Dartmouth Firefighter Anthony Poente
The 25th annual Fire & Life Safety Education Conference took place from September 24 to September 25 at the Best Western Royal Plaza Hotel and Trade Center in Marlborough. This year's theme "A Quarter Century of Fire & Life Safety Education: Proven Successes and Future Challenges" looked at major accomplishments over the past 25 years and looked ahead to future challenges. In 25 years, the average annual number of child fire deaths has dropped 74 percent, hundreds of thousands of children have received fire education through the Student Awareness of Fire Education Program, thousands of seniors have had smoke or carbon monoxide alarms installed and received in-home fire safety education.
Over 200 firefighter-educators, classroom teachers, elder service workers, and injury prevention professionals gathered for workshops on teaching fire, life safety, and injury prevention to all segments of the community, from pre-school children to senior citizens.
The 2019 Fire & Life Safety Educator of the Year Award was presented on September 25 to New Bedford and Dartmouth Fire District #3 Firefighter Anthony Poente for his decades of fire education in three fire departments with a combined population of about 130,000.
For 20 years, Firefighter Anthony Poente has been providing creative, engaging fire safety education to children and the elderly in three fire departments with a combined population of about 130,000. Anthony is a New Bedford firefighter where he is active in fire safety education and is also the lead fire safety educator in two Dartmouth Fire Districts. When Anthony teaches fire and life safety education, he takes other firefighters with him to assist. These helpers are regularly inspired to become fire and life safety educators themselves. Anthony's skill and enthusiasm helps them understand the importance of the fire and life safety educator in a department's mission.
In 2018, Kazin Chrisman, a 10-year-old student of Anthony's in the Dartmouth Public Schools, earned the Young Hero Award. Firefighter Poente was recognized for teaching Kazin how to react in a scary medical emergency and saving his grandfather's life. Anthony's work with people of all ages has made and will continue to make, communities on the south coast safer from fire and other perils.
I've worked with Firefighter Anthony over the years and I can attest to his amazing work with members of our community. He has been a great leader and role model for our youth. We are so lucky to have him here. A wonderful honor rightfully deserved.
More From WBSM-AM/AM 1420