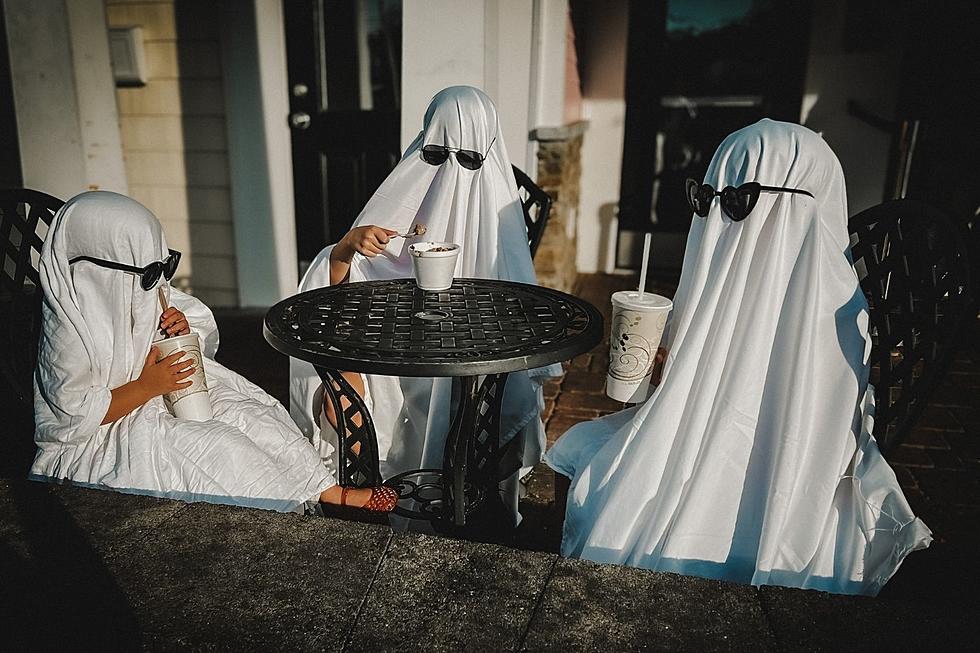 New Bedford Family's Halloween Photo Shoot in Acushnet Is Ghoulishly Good
Courtesy Ashley Rebello
It's not every day you run into three ghosts in the town of Acushnet. Believe me, I used to live there.
Over the weekend, New Bedford resident Ashley Rebello continued on with her annual tradition of dressing her kids up for a Halloween photo shoot. Each year, she finds a theme for her children – Graham, 9, Mayve, 7, and Emmie, 4 – and dresses them up in costume.
Rebello thanked social media for the trendy and fun Halloween photo shoot idea.
"I saw it on TikTok and thought it was such a good idea," Rebello said. "I like doing unique things with my kids. It makes great memories."
Last year, while we were living in the darkness of the pandemic, Rebello found the silver lining by dressing her kids up as the "out of stock" hot items of 2020.
"The kids were dressed up as Lysol, Purell, and Scott toilet paper," Rebello said. "I was a 'limit one per customer' sign."
Rebello searched throughout Acushnet for the best spots to capture that Halloween spirit with her kids. They started off at Keith's Farm where the ghosts went apple picking and then headed over to Acushnet Creamery for a tasty treat. Finally, their last stop was at Pope Park, where the little ghosts spent their afternoon swimming on the swings, seesawing, and climbing up on the monkey bars.
To some, these might just be a few photos of ghosts, but to the Rebellos, these snapshots are a memory that'll last for a lifetime.
This Ghostly Acushnet Family Photoshoot Is Halloween Goals
Ashley Rebello's children posed for her camera while dressed up as three little ghosts for a Halloween Photoshoot in Acushnet.
More From WBSM-AM/AM 1420