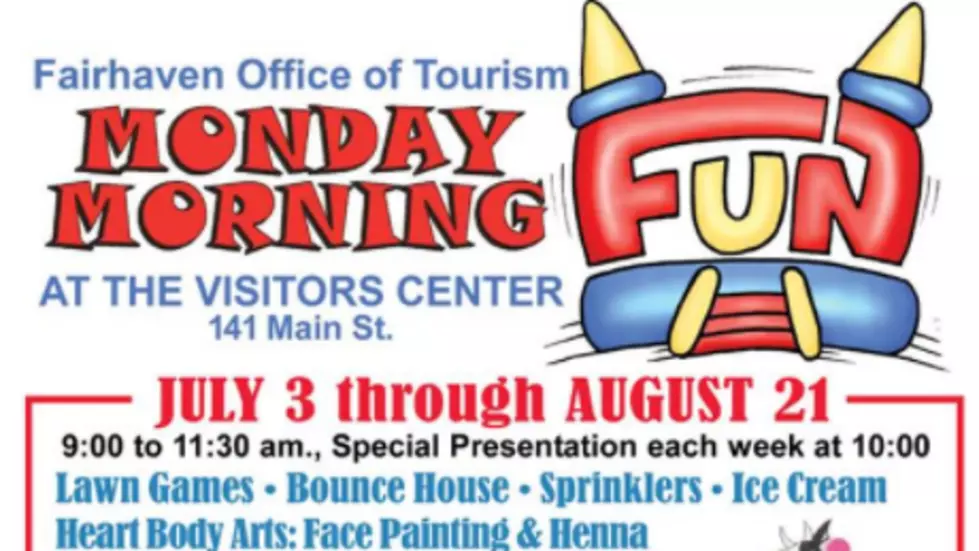 Monday Morning Fun Starting July 3 In Fairhaven
Fairhaven, MA, Visitors Center via Facebook
The Fairhaven Office of Tourism will offer a season filled with fun family programs on Monday mornings at the Fairhaven Visitors Center.
The programs will be held on Mondays, from 9 a.m. to 11:30 a.m., July 3 through August 21, on the lawn of the Fairhaven Academy Building at 141 Main Street.
Each week, children will have the opportunity to play old-fashioned lawn games, such as nine pins, hula hoops, trap ball, bean bag toss, and horseshoes.
Children can jump in a bounce house for free, get their faces painted or henna "tattoos" by Heart Body Arts, and have some ice cream and bottled water from Acushnet Creamery.
The special programs for 2017 include:
Monday, July 3: "ArtMobile from the New Bedford Art Museum/ArtWorks! with two art educators and lots of art supplies for getting creative! Bounce house sponsored by Evie and Rich Griffiths."
Monday, July 10: "Behind the Scenes at Emma Jean's Chocolatier Leigh Dalton from Emma Jean's Cupcake Factory, Candy House, and Ice Cream Shoppe promises a sweet presentation about making candy, including a taste test. Bounce house sponsored by What A Find! Consignment Furniture."
Monday, July 17: " 'K-J Tunes' Disc jockey Ken Souza with musical fun, limbo contest, kids karaoke, hula hoops & more. Bounce house sponsored by Our Lady's Haven."
Monday, July 24: "New Bedford Fishing Heritage Center (and Giant Water Slide) The program "All About Scallops" will teach you about scallops and our local scallop fleet. There will be a shell decorating craft as well, and some fishermen's survival suits to try on. Bounce house sponsored by Seconds Count. Giant water slide sponsored by Fairhaven Improvement Association."
Monday, July 31: "Ezekiel the Green's Magical Foolery and Foolishness The Magician of the Obscure Order of Lesser Green Wizards really tries his best demonstrating and 'teaching' magical feats. Bounce house sponsored by Pink Bonnet Bakery."
Monday, Aug. 7: "Hogwarts Herbology Professor Pomona Sprout Learn about and taste some edible plants you can grow yourself. Bounce house sponsored by the Fairhaven Business Association."
Monday, Aug. 14: "Buttonwood Park Zoomobile with live animals from the zoo! Bounce house sponsored by BRW Property Services."
Monday, Aug. 21: "Whitfield-Manjiro Friendship Society (and Water Slide) Fun Japanese cultural activities, calligraphy, origami, chopstick contests, and more. Bounce house/slide combo sponsored by DeTerra's Jump and Friends of the Fairhaven COA."
In the event of rain, the outdoor programs will be cancelled.
"The Monday Morning Fun programs are funded by contributions to the Fairhaven Office of Tourism Gift Account, the Tourism Department budget, and additional sponsors as indicated. For more information, email FairhavenTours@fairhaven-ma.gov or call 508-979-4085."
More From WBSM-AM/AM 1420