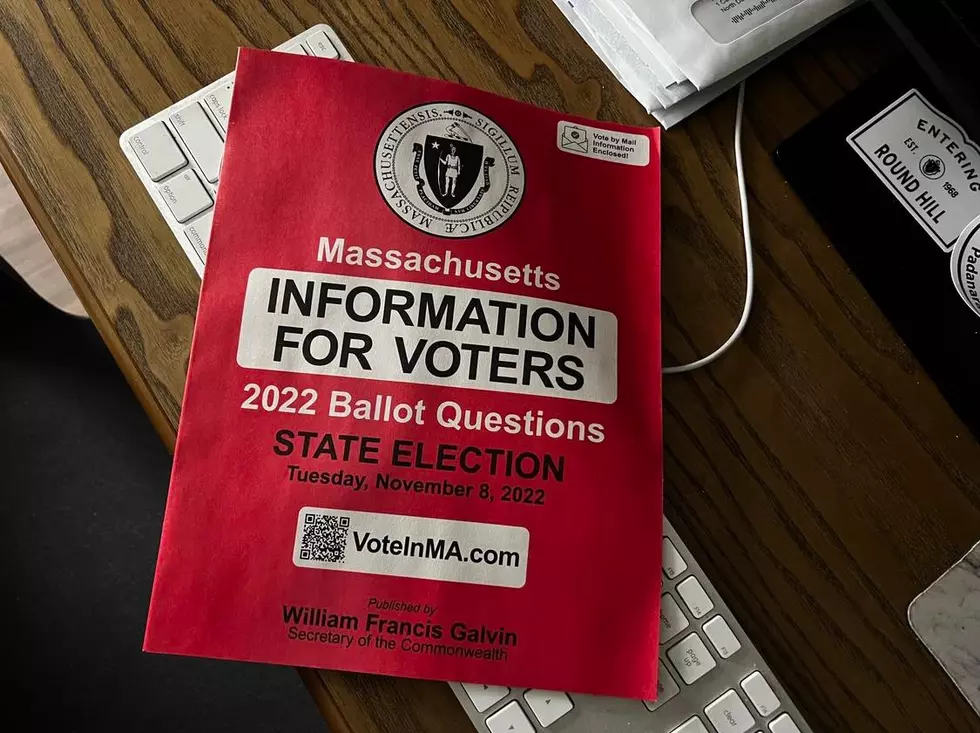 Massachusetts Voter Info Booklet Does Not Include Question 4
Barry Richard/Townsquare Media
By now, you have probably received your red Massachusetts Information For Voters booklet in the mail detailing the 2022 statewide ballot questions to appear on the November 8, 2022, ballot.
Be forewarned the booklet is incomplete.
The 30-page ballot question guide, published by Secretary of the Commonwealth Willam Francis Galvin, began arriving in home mailboxes last week.
The ballot guide contains a host of things, including a list of statewide offices on the November ballot, though it does not include the names of the candidates for those offices.
The booklet includes a 2022 election calendar and "important dates to remember" this election year. It also has a section "Voting in 2022," which covers such topics as voter registration, voting by mail, early voting instructions, and how to vote on election day.
In the pamphlet, you can find information about election security, how to be a poll worker, military and overseas voting, and even the "Massachusetts Voters' Bill of Rights."
What you will not find in the red Massachusetts Information For Voters booklet is a single syllable about what is perhaps the most controversial ballot question facing voters this fall.
While the book contains detailed descriptions of questions 1-3 with pros and cons for each, Question 4, the one asking voters if they want to keep or repeal a recently enacted state law that grants a Massachusetts driver's license to illegal aliens, is not included in the publication.
Page 18 of the voters' guide says, "This book contains information on all ballot questions submitted to the Secretary of the Commonwealth by July 6, 2022. Additional ballot questions submitted after the printing deadline for this book may appear on your ballot."
Readers are instructed to "visit www.VoteInMA.com for additional questions that may be on your November 8, 2022, State Election ballot. Sample ballots will be available online in October 2022."
In the event, you did not receive a Massachusetts Information For Voters guide in the mail the four ballot questions are as follows:
Question 1: Proposed Amendment to the Constitution: Millionaires Tax
Question 2: Regulation of Dental Insurance
Question 3: Expand Availability of Licenses for the Sale of Alcoholic Beverages
Question 4: Eligibility for Drivers' Licenses
LOOK: The oldest cities in America
Though the United States doesn't have as long of a history as some Old World countries, it still has plenty of historical charm.
Stacker
brings you a list of the 50 oldest cities in America.
LOOK: The best minigolf in every state
Using 2022 data from
Tripadvisor
,
Stacker
compiled a list of the highest-rated minigolf courses in all 50 states including Washington D.C.
LOOK: Baby names that are illegal around the world
Stacker
scoured hundreds of baby name databases and news releases to curate a list of baby names that are illegal somewhere in the world, along with explanations for why they're banned.
More From WBSM-AM/AM 1420