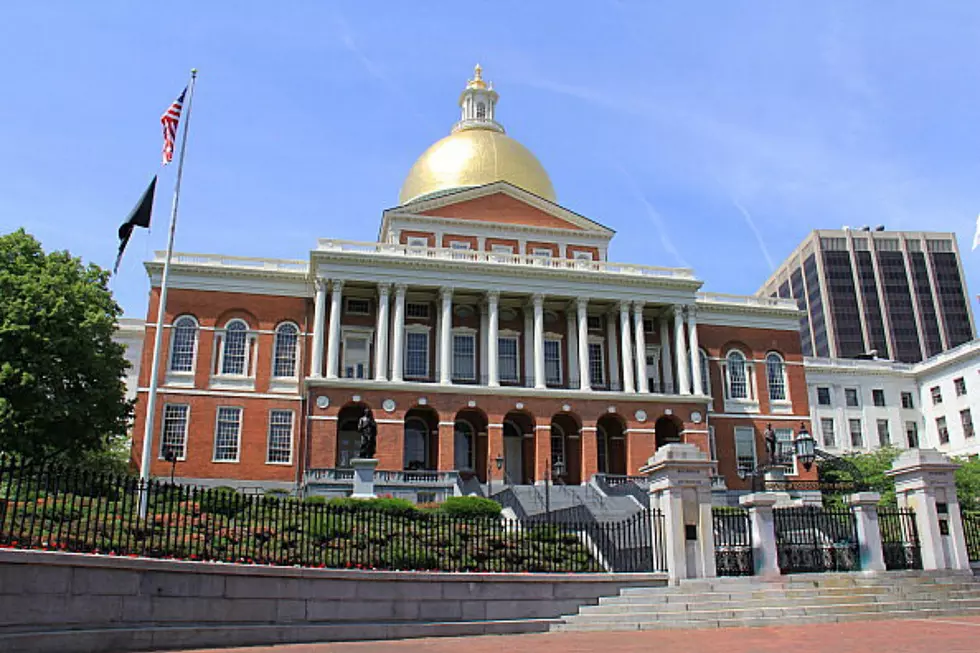 Massachusetts Legislature Passes New Temporary Budget to Keep Government Running
Mary Serreze/Townsquare Media
BOSTON (SHNS) — Gov. Maura Healey bought top legislative Democrats up to another month to reach a long-overdue budget deal Thursday when she handed them a get-out-of-missed-deadline-free card, but it's not clear if they will actually take full advantage of it.
With the list of House-Senate feuds growing longer and a compromise state budget still out of reach, Healey filed a $6 billion interim budget with spending designed to keep government services and operations afloat through August. It's the second temporary budget she's proposed, following a $6.6 billion package that was designed to fund state operations until around the end of July.
The House and Senate quickly took Healey up on the offer, approving the bill just a few hours after she filed it, but they also scheduled another round of formal sessions Monday where a final budget deal -- if one can be reached by negotiators -- might be unveiled and advanced.
House Ways and Means Committee Chair Rep. Aaron Michlewitz, who is chairing the budget talks alongside his counterpart Sen. Michael Rodrigues, said there are "a number of things out there that we possibly could work -- could be doing on Monday."
"We're going to be working through the weekend about any of these things that are out there," he told reporters.
By filing a second interim budget, Healey relieved any pressure House and Senate Democrats might have been feeling about reaching a deal. The budget will keep services and paychecks covered into August, a popular vacation month that many on Beacon Hill treat as a full-blown recess from formal business.
Many lawmakers departed for the day after accepting another long-delayed compromise on an annual road and bridge maintenance funding bill, and the interim budget then sailed through mostly empty chambers where members of both parties passed on talking about the situation publicly.
Michlewitz tried to downplay the chances that the interim budget guarantees negotiations will stretch into August, but said it gives everyone breathing room, noting that Healey by law gets 10 days to review any bill sent to her.
"Regardless of whether we even pass the budget today or finish the budget today ... to give the governor the regular 10-day window would have bled beyond July 31," the North End Democrat said.
Both branches broke for long weekends after shipping the stopgap spending bill to Healey's desk for her signature.
They plan to return for formal sessions on Monday, July 31, a scheduling decision that indicates there may be hope among legislative leaders that Democrats can soon come up with a consensus annual budget or a separate supplemental budget packed with time-sensitive spending and policy items, which is now ensnared in a cross-branch procedural fight.
Rodrigues, the Senate's budget chief and lead negotiator on the overdue roughly $56 billion fiscal 2024 budget, said he had "probably a half-dozen conversations today" with Michlewitz via texts, calls and Microsoft Teams.
"We are literally working 24/7 on trying to get a deal done, and Chairman Michlewitz and I are putting every effort into getting it done," he told reporters in a brief interview. "But I can't go into any details."
Lawmakers who sit on the six-member conference committee only meet privately, denying any window into their disagreements about public spending or how often, or infrequently, they are meeting.
Despite repeated pronouncements about working hard and staying in close contact, there has been no sign that a budget accord is close or whether the two sides have at all made progress since talks began June 7.
It's not clear if the historically overdue budget, or the stalled standalone spending bill with money for hospitals, flood-damaged farms and more, will impact the traditional break lawmakers take in August.
"It's a little too early to speculate on that until we actually get to cross that path," Michlewitz said.
Lawmakers may need to juggle vacation plans with the need to come back to Beacon Hill for votes.
Senate Minority Leader Bruce Tarr said it's "very difficult to predict" whether August will be a quiet period for lawmakers or if they will be expected to return to Beacon Hill to finish up the unresolved spending bills.
"My hope would be that we would certainly get these things accomplished before anyone thinks about stopping the session," Tarr said.
House Minority Leader Brad Jones addressed the budget impasse Thursday afternoon and said he would like to see the budget wrapped up "sooner."
"There's clearly a deadlock. I'm not sure what specific issues are holding it up. And, obviously, we're getting to a point where there's at least a few pieces that are important," the North Reading Republican said, citing a House-backed free school meals program and a free community college proposal. Rep. Todd Smola of Warren represents the House GOP on the budget conference committee.
He also took note of the ever-growing list of supposed grievances between the branches and offered a minority party analysis of House-Senate relations.
"There seems to be a lot of issues that are going on between the House and Senate these days," Jones said. "It clearly shows that one-party government doesn't work for the citizens of the commonwealth."
Lawmakers have made a habit of disregarding the annual deadline and have not sent the governor an annual budget before July 1 since fiscal year 2013, more than a decade ago, according to research from the Massachusetts Taxpayers Foundation. (That was still technically a late budget because Gov. Deval Patrick did not sign it until July 8, a week into the fiscal year.)
Healey's decision is also an unusual step: the bill she filed Thursday represents only the second time in the past 15 years a governor has offered the Legislature more than one temporary spending plan, typically buying about a month longer for negotiations.
The only other instance in that span was in 2020, when Gov. Charlie Baker filed and signed three different interim budgets that gave lawmakers about five more months to navigate the annual budgeting process amid the COVID-19 pandemic's upheaval.
In late July 1999, Gov. Paul Cellucci filed a second interim budget amid a similarly dragged-out budget negotiation and verbally whacked House and Senate Democrats in the process, accusing legislative leaders of "playing with their food" in the budget impasse. Senate President Thomas Birmingham conceded at the time that it was an "embarrassment" that there was no budget done by July 28 that year.
"What I sense is a lack of urgency in the House leadership and Senate leadership," Cellucci said at the time, the News Service reported. The interim budget is "not a perfect solution, but it does keep the government running while they're basically playing with their food."
On Wednesday, Healey would not say whether she had a second interim budget in the works and minimized the idea that her priorities are essentially being held hostage in the standoff between fellow Democrats.
"Right now we're awaiting a budget, look forward to receiving one. Obviously, we'll be prepared to take whatever steps necessary as we move forward," the governor said. She added, "I know the Legislature is working hard on this. It's all part of the process. And, you know, it is July and I hope that we receive a budget soon."
Michlewitz on Monday said he had asked Administration and Finance Secretary Matthew Gorzkowicz how long the $6.66 billion in the first interim budget would last. It's unclear whether the chairman got an answer, and Gorzkowicz's office is among a handful that have either been unable to say or declined to say when the already-approved money might run out.
The comptroller's CTHRU website showed that the state has spent $2.37 billion so far in fiscal 2024 across more than 86,600 transactions.
But that figure does not tell the whole story: the comptroller's office said the sum includes spending through the state accounting and payroll systems, as well as "the use of appropriated, capital, federal grant, trust, and non-tax revenue funding sources." It does not include "substantial payments" like confidential medical and retirement benefits and may not fully account for scheduled payments like state payroll, the office said.
The credit rating agency Moody's Investor Services put Massachusetts on notice in 2019 for its chronically late annual budget, though Beacon Hill Democrats and Republicans alike brushed aside the criticism and have not broken the habit.
"Late budgets are a sign of governance weakness which, in extreme cases, can be negative for state credit quality," the firm cautioned in July 2019.
In an actual breakthrough after months of disagreement, both branches on Thursday unanimously accepted a compromise $375 million local road and bridge maintenance funding bill produced by a conference committee (H 4013). The final version includes $200 million for the Chapter 90 program and another $175 million in transportation-related grants.
The dispute between the House and Senate was where to direct $25 million worth of grant funding. Ultimately, the conference committee increased the bill's bottom line by $25 million and funded both initiatives.
Rep. William Straus, the House's lead negotiator, took issue with media reports pointing out the accord took months to reach despite a difference of a couple of sentences and offered insight on the way in which small differences can lead to long negotiations on Beacon Hill.
"I know from experience and you know as well, sometimes it only takes one word, sometimes a sentence, to make a bill and authorization dramatically different, so we had a significant policy issue that was different between the House and Senate versions," the Mattapoisett Democrat said. "Would it have been nice to have promptly conferenced this where one chamber or the other conceded its position that was reflected in the bill that had been passed on the floor of the House, the floor of the Senate? Of course."
— Chris Lisinski, Colin A. Young and Alison Kuznitz, State House News Service. Sam Drysdale and Sam Doran contributed reporting.
More From WBSM-AM/AM 1420