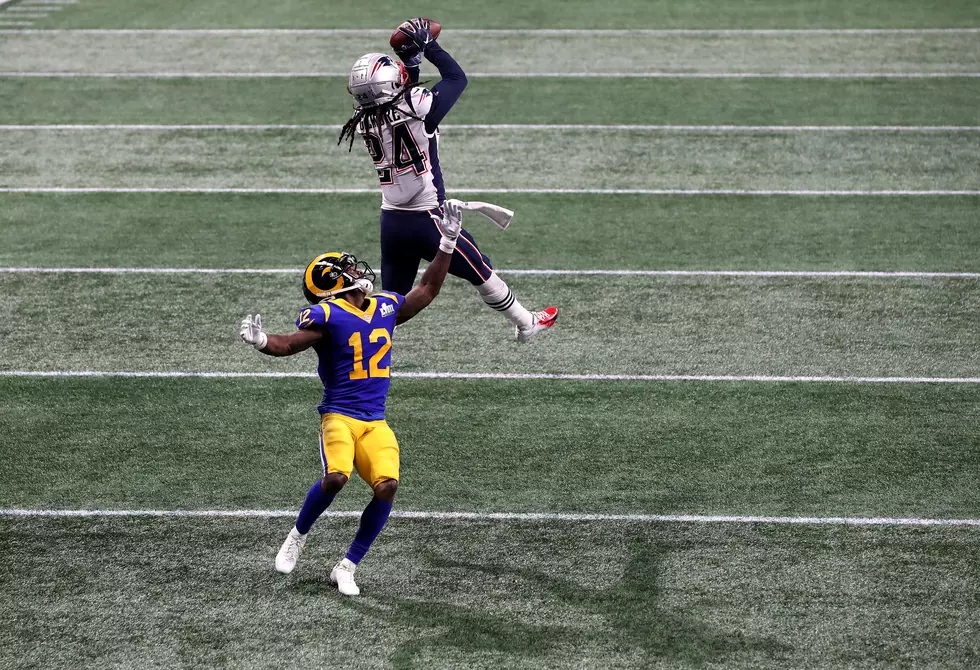 It Was a Belichick-Led Patriots Win [OPINION]
Getty Images
In what may be Bill Belichick's greatest job as head coach, the Patriots are again the world champions of football.
Taking the job in January of 2000, Belichick has been nothing short of masterful.
After the first season in 2000, when the Patriots were 5-11, Belichick has since had no losing seasons; in that time, he's won 16 AFC East titles and competed in 13 AFC Championship games, winning nine of them, and has won six Super Bowls.
His record as head coach of the New England Patriots is 225-79 (74 percent) in the regular season and 30-10 (75 percent) in the playoffs.
He comes from the Bill Parcells "tree" of coaching lineage. He has far surpassed the legendary Parcells in NFL success measures. In fact, Bill Parcells is 0-3 in the playoffs when Bill Belichick was not on his coaching staff.
So for the last 18 years, Belichick has been winning Super Bowls or nearly winning them and has been drafting at or near the bottom for all those years, but unlike every other 31 NFL teams during that time, BB has not had periods of rebuilding or suffered a single losing season.
The NFL is built to share success. The goal is every team winning and losing 50 percent of the time over the course of a decade. The New England Patriots have simply ignored the design which should drive them back to mediocrity or worse.
To compare him to Bill Walsh, Vince Lombardi, Don Shula or George Halas is to do a disservice to Belichick. None of those coaches led teams during a period of any designed harnessing of longevity for greatness. In those eras, an owner could pretty much buy a winning team.
Even the "gold standard" San Francisco 49ers enjoyed that liberty, and even though they had Joe Montana and Jerry Rice, Ronnie Lott, Charles Haley, Roger Craig, and many other stud players, they were only able to get to four Super Bowls. Montana only played well enough to win four NFC titles. They only played in six NFC title games.
Fast forward: Belichick has done the most and with less, and this year's effort may have been his best one yet. Arguably one of the worst rosters in the playoffs, and they are today world champions.
The unthinkable happened yesterday—Tom Brady was ineffective—but the Patriots were able to overcome that because BB put together a defensive gem, a scheme that held the 14-4 Los Angeles Rams to three points.
No one is better at the salary cap management than New England's general manager Bill Belichick, and no one can veil the flaws of the GM's picks better than coach Belichick, who somehow coaches 'em up throughout the year and has them ready for peak performance as the year closes out.
On January 27, 358 days from now, it will be two decades since Robert Kraft hired Bill Belichick in 2000. It cost the Patriots one first-round draft choice to sign him.
Many of Kraft's football advisors told him to look elsewhere. Kraft said he couldn't help but think of that 1996 AFC Champion Patriots team and the effective defense that Kraft said Belichick was largely responsible for, Parcells the head coach or not.
The trade from the New York Jets to New England was the best trade in sports history. Don't give me the Babe Ruth trade nonsense; he only won four titles for the Yankees.
Belichick has been masterful as a defensive mind, adaptive to a thoroughbred offense-led period, has done without, made hard choices to lose effective players to stay on target for his philosophy to defy the gravity of NFL parity rules. He has signed misfit or throwaway players by envisioning a use for them in whatever unique skill only he could detect while no other teams seem able.
Belichick goes into a well-earned resting period which will end far sooner than Pats fans understand.
Rob Gronkowski and Devin McCourty are muttering something about retiring. Brady will be 42 this August 3 and should start to play like a 35-year-old at some point soon.
But, in this April's NFL draft, the Patriots will have six picks in the first three rounds and 12 overall. Also, their last year's first-round draft pick, offensive lineman Isiah Wynn from Georgia, will be back on the field after being injured for the year in pre-season training camp.
Thank you for this never-ending ride, Mr. Kraft!
Ken Pittman is the host of The Ken Pittman Show on 1420 WBSM New Bedford. He can be heard Saturdays from 9 a.m. to noon. Contact him at ken.pittman@townsquaremedia.com and follow him on Twitter @RadioKenPittman. The opinions expressed in this commentary are solely those of the author. 
More From WBSM-AM/AM 1420