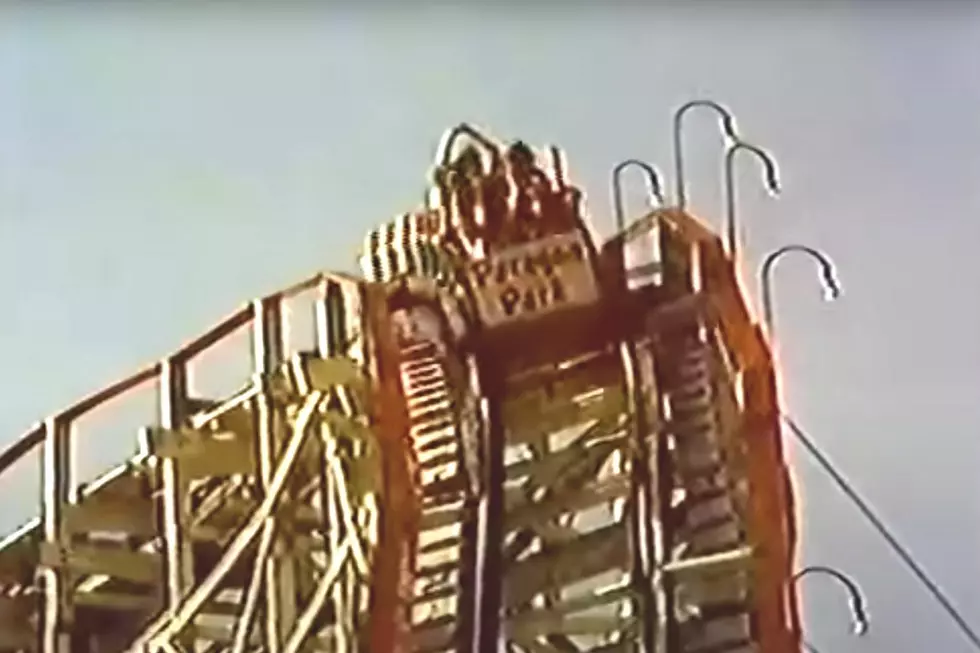 Paragon Park's Giant Coaster Lives On 450 Miles From Hull's Nantasket Beach
blak442 via YouTube
Here on the SouthCoast, many have fond memories of riding the Comet roller coaster at Lincoln Park in Dartmouth. Yet some may have taken a day trip away from the New Bedford and Fall River areas to visit another of New England's great amusement parks of old – the seaside gem Paragon Park on Nantasket Beach in Hull, Massachusetts.
There, they would ride The Giant Coaster, a roller coaster that was legendary for being one of the roughest and most intense wooden roller coaster rides of all time. It put Paragon Park on the map as a must-visit for anyone coming to New England, and was beloved by locals as well.
Paragon Park opened in 1905 and lasted for just under 80 years, closing in 1984. Today, all that remains of the park is the carousel that was built in 1928, which now is housed in a pavilion a bit down the road from where it once stood, yet still allows for children to ride its hand-carved horses almost a century after they were first created.
The Giant Coaster opened at Paragon Park in 1917; at 98 feet tall, it was the tallest roller coaster in the world at the time. It remained so until 1925, when it was topped by two feet by the Revere Beach Cyclone just down the road.
The coaster shut down when Paragon Park closed in 1984. It remained on the site for a short time after the closing, a hulking ghost of the park's past. Fun fact: a couple of fires over the years changed the configuration of The Giant Coaster's track, but it was a fire at another park in St. Louis that allowed Paragon Park's owner to buy a couple of cars from a coaster named The Comet, which is why some of the cars on The Giant Coaster had "Comet" on them.
While the Lincoln Park Comet may have rotted away until it was finally removed, The Giant Coaster from Paragon Park lives on at another park. It was moved from Nantasket Beach and opened as The Wild One at Six Flags America outside Washington, D.C. back in 1986. At the time, the park was called Wild World; hence its new name. According to a Washington Post article from that time, it was purchased at auction for just $28,000.
That park put $1 million into renovating the coaster, and it has been refitted and redesigned multiple times over the decades.
Like Lincoln Park, the land on which Paragon Park was situated is now the site of condominiums. You'd once drive into Hull on George Washington Boulevard and watch the horizon for the rising coaster in the distance; now, it's a monstrous condo building.
That magic of entering the Nantasket Beach area is gone, but at least the magic of The Giant Coaster – excuse me, The Wild One – lives on.
Amazing Theme Park Rides Based on Movies That Were Never Built
LOOK: Oldest Disneyland Rides From 1955 to Today
Stacker
, set out to compile a definitive list of every Disneyland attraction you can enjoy today and ranked them by their age. Using real-time data from
Touring Plans
, Disney archives, and historical news releases and reviews, our list starts with exciting recent park additions and stretches back to the oldest opening-day classics. This list focuses on the original Disneyland Park, so you will not see any rides from its neighboring California Adventure located just across the promenade. Read on to discover the oldest Disneyland rides you can still ride today.
10 Disney Movies That Deserve Their Own Rides
Here are 10 Disney movies that we think would make particularly great theme park rides, whether it be a dark ride, flume ride, or rollercoaster.
More From WBSM-AM/AM 1420