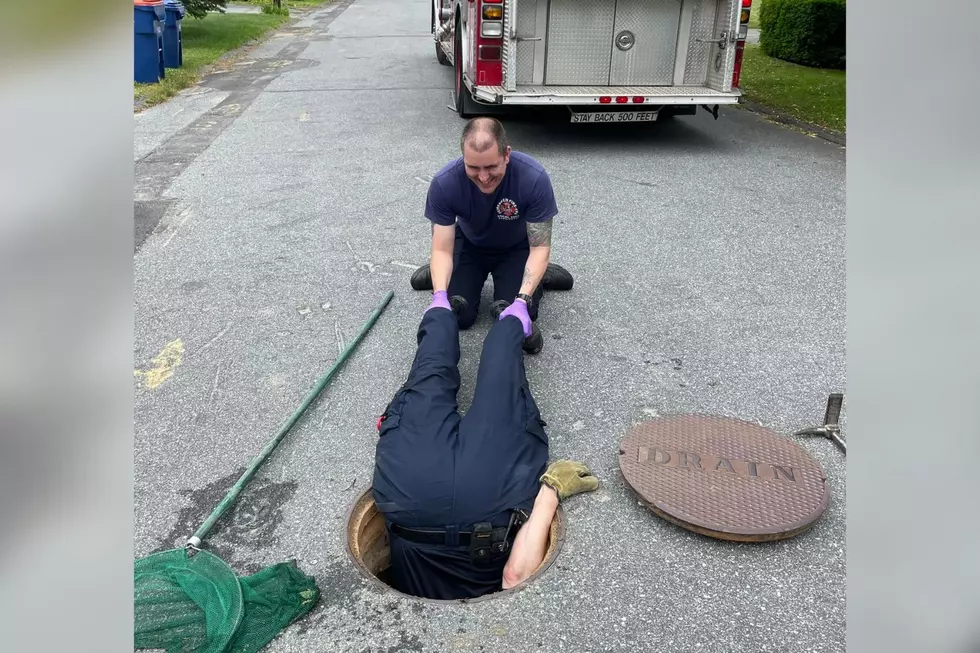 How a Fairhaven Firefighter Ended Up Head First in a Storm Drain
Courtesy of Brent Moniz
One aspect of choosing to be a firefighter is that you never really know what will be in store for you each day you show up to work.
You could be pulling people out of a burning home, you could be showing up to the scene of an accident, and, as one Fairhaven firefighter learned Sunday, you could be getting lowered by your ankles into a storm drain.
Fairhaven firefighters were called to Smith Street, off of Sconticut Neck Road, for a very unusual rescue. Neighbors reported a mother duck that was frantically trying to protect a storm drain on the street, as a crowd gathered to offer help.
The duck was clearly upset.
When first responders were able to get close enough to the drain, they spotted the source of the poor mama's anxiety.  Inside, her little ducklings were floating.  If you look closely at the picture below you'll see a few of them.
After one of the firefighters was carefully lowered into the hole, he rescued all nine of the ducklings using a fishing net.
As you can imagine, the firefighters were trying to hold in their laughter as they lowered one of their guys into the drain. Eyewitness Brent Moniz said: "Everyone was cracking up. We were trying not to laugh so he wouldn't drop him. They did a great job."
The mother duck was extremely grateful, but she did seem to give her ducklings a stern warning to never let that happen again.
Items Dangerous to Animals That You Have in Your Yard
We spoke with Wild Care Cape Cod Executive Director Stephanie Ellis about the dangers of many everyday yard items and how they can affect the wildlife we know and love. Here are some of the dangers your yard may present to animals and how you can reduce their risk.
LOOK: Here are the pets banned in each state
Because the regulation of exotic animals is left to states, some organizations, including The Humane Society of the United States, advocate for federal, standardized legislation that would ban owning large cats, bears, primates, and large poisonous snakes as pets.
Read on to see which pets are banned in your home state, as well as across the nation.
More From WBSM-AM/AM 1420