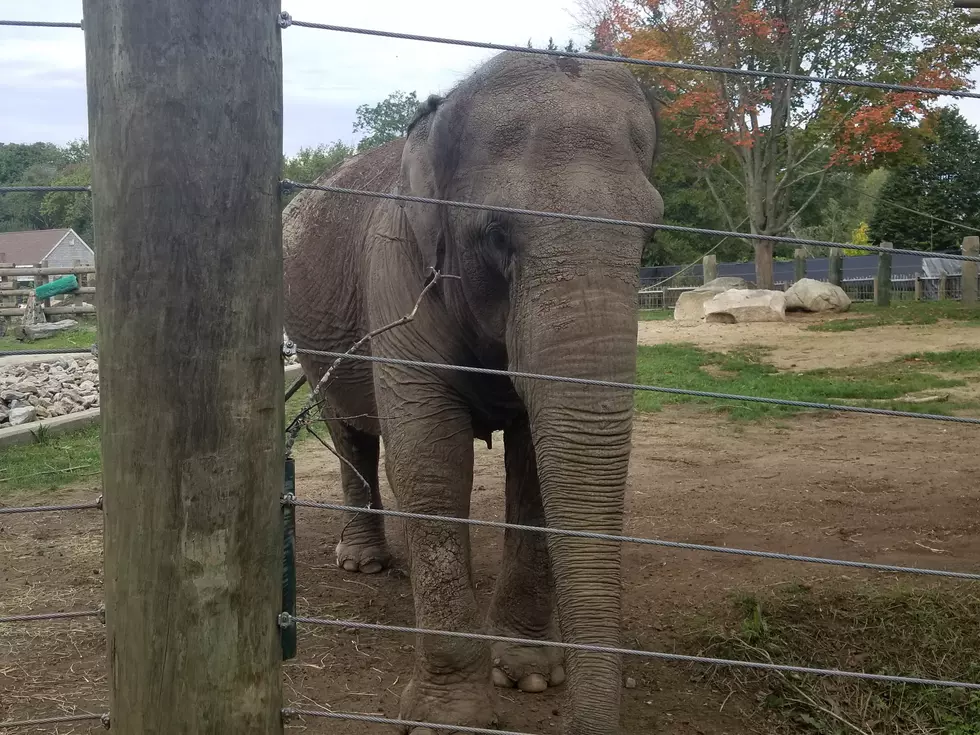 Even with Changes, Buttonwood Park Zoo Is a Comfort [SOUTHCOAST VOICES]
Tim Weisberg/Townsquare Media
THIS GUEST BLOG BY: Brock N. Cordeiro, Buttonwood Park Zoo member.
After more than two months coping with de facto quarantines due to stay-at-home advisories implemented by Governor Charlie Baker to protect We, the People of the Commonwealth of Massachusetts, things are starting to reopen and people are starting to return to a state of increasing familiarity if not necessarily normalcy. I write not to comment upon the many weeks of lockdown nor the proper pace of reopening Massachusetts. People of good intention and well-formed conscience can legitimately discuss and debate such matters but rather I write to celebrate and embrace that we have begun to return and recover.
During a recent weekend, the Buttonwood Park Zoo held a Member Preview prior to the public reopening date of Wednesday, June 3. After weeks of Virtual Keeper Chats on Facebook and the Wildlife Education Series conducted via Zoom, that was the day that, for what seemed like the first time in forever, the doors opened for patrons of the Buttonwood Park Zoo.
Yes, things have changed but they are not for the negative but rather the health and safety of guests, staff, and animals. While free, I did have to make a reservation to enter the Zoo. I chose 9-9:30 a.m., the very first opportunity on the first day of the Member Preview. It was of great importance to me to be among the first guests to make my return and show my support. I spent two hours exploring the Buttonwood Park Zoo, a place I have been to countless times but an institution that I was seeing again with fresh eyes and an open heart.
I took many photos of the animals, as well as the new signage and physical changes. I enjoyed the newly-opened walking path behind the elephant area, and I had a wonderful conversation with a staff member about the behind the scenes view and the coming exhibits.
I spoke at length with an elephant keeper who educated me on the BPZoo's accreditation by the Association of Zoos and Aquariums (AZA), and especially concerning the BPZoo's animal management plans and the cooperation between the BPZoo and other AZA-accredited institutions across the country.
I had the privilege of meeting Cisco, the great horned owl, who is an Animal Ambassador and learning much more about that program, thanks to Cisco's caretaker. The new bird feeding station was a great addition! The actual animal encounters were some of the best that I have ever experienced. I was taken with how not only the staff, but fellow guests were so happy to be there with people noticeably smiling behind their facial coverings, graciously distancing, and greeting each other with joy when our paths did cross.
The BPZoo is my happy place. There is no other local institution where I would rather be. I remember when my dad, Norman Cordeiro of Dartmouth, was dying six years ago at St. Luke's Hospital of pancreatic cancer and the only place I wanted to be at that time was at the BPZoo. BPZoo is a refuge for more than the animals, some unseen as they live behind the scenes receiving lifesaving care. The Buttonwood Park Zoo is truly a place that embraces life and provides joy (and education) to children, their families, and children of all ages – like me!
The unintended role of the BPZoo as a refuge continued during that recent visit. A close family member had major surgery at St. Luke's just the day before and instead of sitting home, preoccupied with worry about their recovery, I was able to spend two hours with the staff and animals of the BPZoo. The first thing I did after exiting was to call this family member and tell them all about my glorious morning at the Buttonwood Park Zoo.
I have been truly fortunate over these past many weeks and have been able to deal reasonably well with these swift and unwanted changes. I am blessed that to date neither I nor anyone in my immediate sphere of friends or family has fallen ill and I remain employed.
Those blessings continued most profoundly with my visit to the BPZoo. While we must maintain our six feet of social distance and at this time and we should not shake hands, please go, wrap your arms around the Buttonwood Park Zoo, and embrace its reopening!
Editor's Note: 'SouthCoast Voices' is a series of guest blogs from newsmakers across the region, on relevant issues that directly impact the people of Greater New Bedford and the surrounding communities. The opinions are solely those of the author. If you are interested in contributing, please contact tim@wbsm.com for more information. 
Enter your number to get our free mobile app
More From WBSM-AM/AM 1420