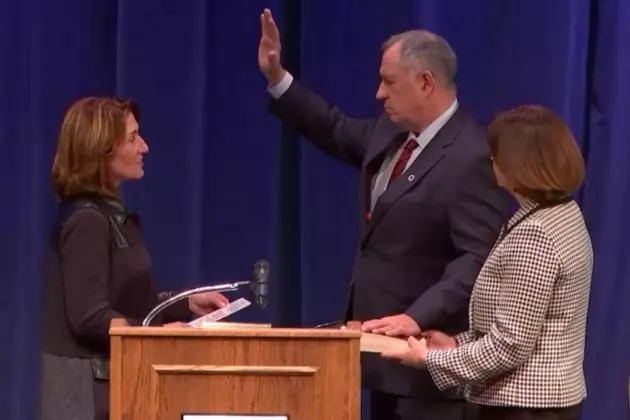 District Attorney Thomas Quinn Sworn In for First Full Term
Fall River Community Media/Facebook
Bristol County District Attorney Thomas Quinn was sworn in for his first full four-year term during a ceremony Thursday at Bristol Community College in Fall River.
Quinn was appointed to the position in early 2015, partway into the term, by Governor Charlie Baker after the previous D.A. Sam Sutter had won election for the mayor's office in Fall River.
Lt. Governor Karyn Polito administered the oath and praised D.A. Quinn as someone who understands the importance of public safety while bringing the right temperament and level of compassion to the work.
Addressing judges, court personnel and supporters in the audience, Quinn said it was an honor to serve as the top prosecutor in Bristol County.
"I take nothing for granted, because I know I would not be in this position without the support of many of you here today, the community and the Baker-Polito Administration," he said. "My only goal is to do the best job I can for the citizens of Bristol County."
The District Attorney said he was proud of his Elder Fraud and Abuse unit that was formed during his first term, and said he had already put together a new unit to hunt down violent offenders who skip court appearances and are in default.
"Our State Police Detective Unit is working with other law enforcement agencies to track down the most serious and violent offenders who are on the loose. You simply will not get a pass when you skip court and try to evade prosecution," said Quinn.
Lt. Gov. Polito also administered the oath to 70 Assistant District Attorneys for Bristol County. D.A. Quinn thanked the Baker-Polito administration for their support of a pay increase for Assistant D.A.s, a step he says is vital to retaining experienced prosecutors in the courtroom.
More From WBSM-AM/AM 1420