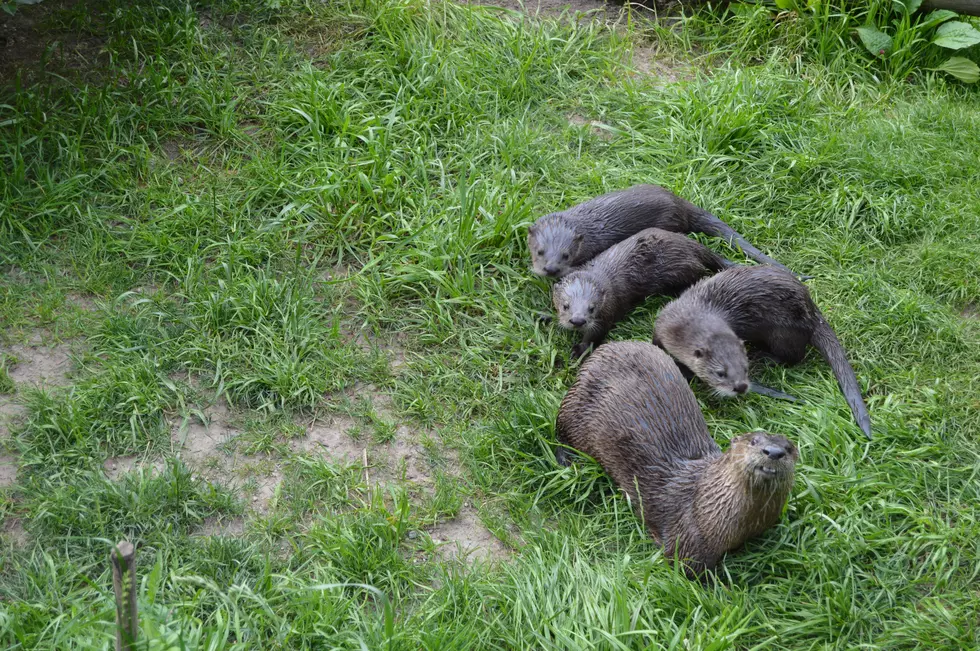 Buttonwood Park Zoo Announces Names of Baby Otters
Courtesy Buttonwood Park Zoo
NEW BEDFORD — The playful otter trio born at Buttonwood Park Zoo on March 17 were officially introduced to Zoo members during a Member Appreciation Night on June 22.
Members Night was full of treats for Zoo members including the option to cast their ballot to name the adorable siblings, two females and one male. The name choices were: Oliver, Kitsey and Button; Pip, Pop and Treelo; Bray, Dublin and Tullamore; and Lucky, Clover & Shamrock. After a total of 663 ballots were cast, Lucky, Clover and Shamrock were the winning selection, receiving 279 votes.
The three North American river otter pups were born to mom, Dani and dad, Donut. For the first eight weeks of their lives, the pups were getting acclimated to their surroundings; as is normal for the species, the pups did not open their eyes until four weeks after birth. They recently began the process of learning to swim and will now join the Zoo's three resident river otters in the habitat.
The pups weighed about a quarter of a pound at the time of birth and have grown steadily; they are all over two pounds now and doing great. Otter pups are born almost helpless and require significant care by their mother to survive. Dani is once again demonstrating excellent skill in caring for her offspring. The Buttonwood Park Zoo has had North American river otters since 2000.
This is Dani's second litter born at Buttonwood Park Zoo. She gave birth to two pups in March of 2014. Dani, now six years old, arrived at the Buttonwood Park Zoo in April of 2013. She lives with the Zoo's two seven year-old male river otters, Duncan and Donut.
The birth of these otter pups are the result of a breeding recommendation of the Association of Zoo and Aquariums (AZA) North American River Otter Species Survival Plan (SSP). The goal of the SSP is to cooperatively manage otter populations within AZA accredited zoos to ensure the sustainability of a healthy and genetically diverse population. The pups births and presence at the Zoo help educate guests about the conservation work being done in wetland areas throughout the country by AZA accredited zoos to ensure that river otters remain a thriving species in the wild.
Director of Community Engagement, Paula Montgomery says "providing members with the first glimpse of new animals at the Zoo is a way for us to show our members how much we appreciate their year-round support."
The Zoo engaged the public in generating the name options through their Facebook page and other social media. Montgomery stated they are excited to introduce Lucky, Clover and Shamrock to the public in the days and weeks to come.
--Buttonwood Park Zoo release
More From WBSM-AM/AM 1420