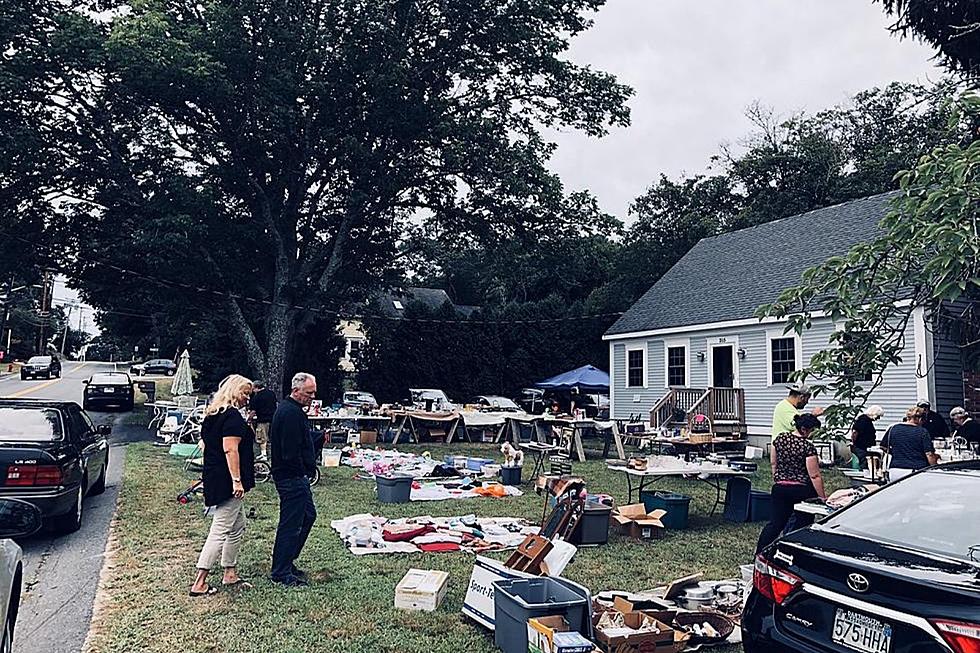 Acushnet's Traditional Town-Wide Yard Sale Becomes More Official
Michael Rock/Townsquare Media
The annual Apple Peach Festival in Acushnet may not be a-go this year, but some traditions will continue to live on in 2021.
During any typical year, Apple Peach Festival weekend would be accompanied by a whole slew of fun events, atypical traffic and delicious goodies. Many folks would also take to the neighborhood streets of Acushnet for a whole lot of yard sales, and while the sales among neighbors were never officially coordinated, per se, Apple Peach Festival weekend just became known around town as the weekend to do a little late-summer cleaning and host a yard sale.
Despite the absence of this year's festival, members of the community have decided to go on with the Acushnet tradition of the September yard sale, and for the first time, it's officially a town-wide event.
The Spruce Up Acushnet community group is getting the word out through Facebook, encouraging the community to host their own sales or combine with neighbors for multi-family sales on September 11 and 12 from 9 a.m. to 2 p.m. both days.
"[I] am still relatively new to town, but from what I understand, people [have] always had yard sales the same weekend as the Apple Peach Festival," Kelsey Janak of Spruce Up Acushnet said. "When I asked the All Things Acushnet [Facebook] group if the town ever had a town-wide yard sale –my friends in Carver just had their first one and it was a hit, so I wanted to try and organize one – this was brought to my attention."
Janak figured she'd bring her own touch to an Acushnet tradition, creating a helpful guide of participating locations that will include key information so shoppers won't have to do that awkward, slow drive-by to see if certain homes are selling items they might be looking for. The guide will include the addresses of participating sales, along with insight into what kinds of items will be sold and any additional pertinent information.
For example, if the kiddos be out front serving up lemonade at a yard sale, participants can include that info on the guide so visitors know where to find a cool drink.
Do you live in Acushnet and would like to be included in this year's yard sale 'route?' Check out the online form! And shoppers: Get ready for a whole weekend of yard-saling and searching for unique goodies through Acushnet this fall.
How to Come Away With the Best Finds, Deals at Yard Sales
Are you looking forward to hunting through sale after sale this year? Yard sale season is back, and I've got some tips to help you find the items you're looking for while having a blast.
22 Odd and Tempting Vintage Items Found on Marketplace, Craigslist
Facebook Marketplace and Craigslist can easily become black holes, where a quick look can easily turn into hours of scrolling through things you don't need. They're also places where people sell the most random things, and it's amazing to see what some will try to sell. We've done the leg work for you, compiling some of the most wacky, amazing finds on seller sites in the greater Massachusetts and Rhode Island areas. Who knows, maybe you'll even see something that catches your eye for your own home!
16 Things People Would Delete From the SouthCoast If They Could
There's a lot to love about the SouthCoast. From an insane amount of
great restaurants with delicious dishes
to breathtaking views on the shores of sandy beaches, the SouthCoast is truly a place all its own – and don't even get us started on the area's extensive history. But we got to thinking, what areas of the SouthCoast could use some improvement, whether they're realistic or not? We asked FUN107 listeners what one thing they would delete from the SouthCoast if they could, and here were some of their answers.
More From WBSM-AM/AM 1420