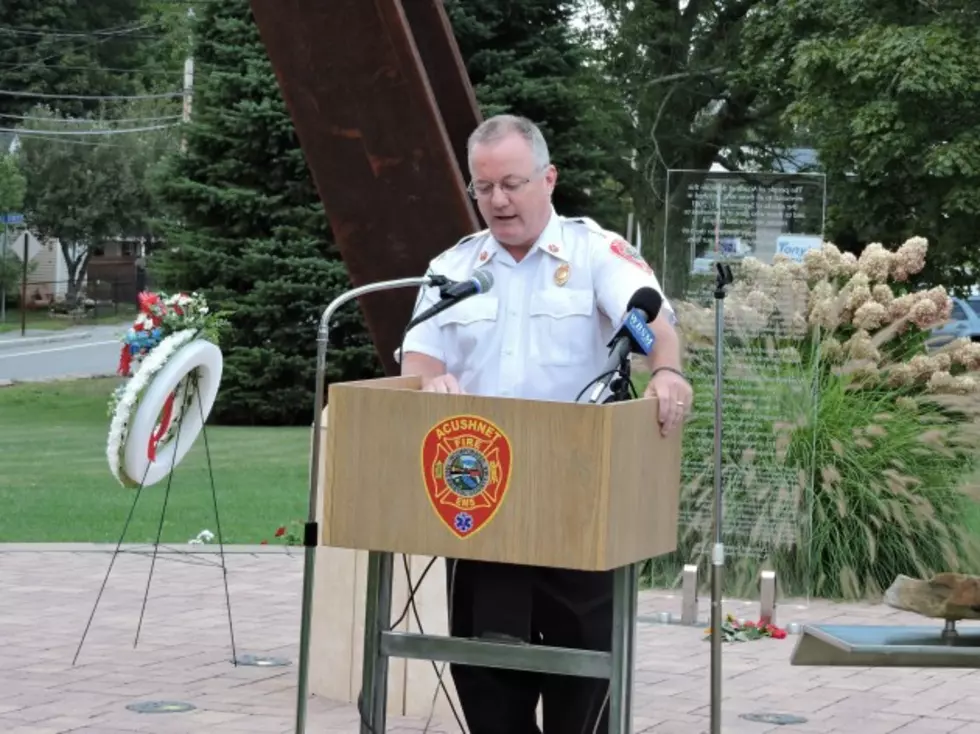 Acushnet Pays Tribute to Sacrifices Made on September 11th, 2001
Acushnet Fire Chief Kevin Gallagher speaks at 9/11 memorial | Greg Desrosiers/TSM
Acushnet firefighters and residents took time to honor those who were lost on September 11th, 2001 Friday evening, gathering around the 9/11 Memorial outside the fire station.
The memorial was erected four years ago, and Fire Chief Kevin Gallagher says each year, a mystery person leaves roses on the tragic anniversary.
"We don't know who places them. We don't know if they come by, put them down, and leave, or if they spend time. But each and every year, on this day, at some point we look out and there's roses left at the memorial and I think that's absolutely beautiful," said Gallagher.
The chief went on to remind those in attendance to not only remember the men and women that died during the terrorist attacks, but to also think of those who are still suffering from cancer and other illnesses associated with Ground Zero.
"There are more than 3,700 first responders and survivors...who have cancer directly related to the events of September 11th," Gallagher said. "While we focus on a day like today on those who were killed, I would ask you to step back a little and think about those who, 14 years later, they and their families are still suffering."
The Acushnet 9/11 Memorial includes relics from all three crash sites: a rock from the field in Stonycreek Township, PA; a slab of granite from the walls of the Pentagon, and a steel beam from one of the World Trade Center towers.
More From WBSM-AM/AM 1420