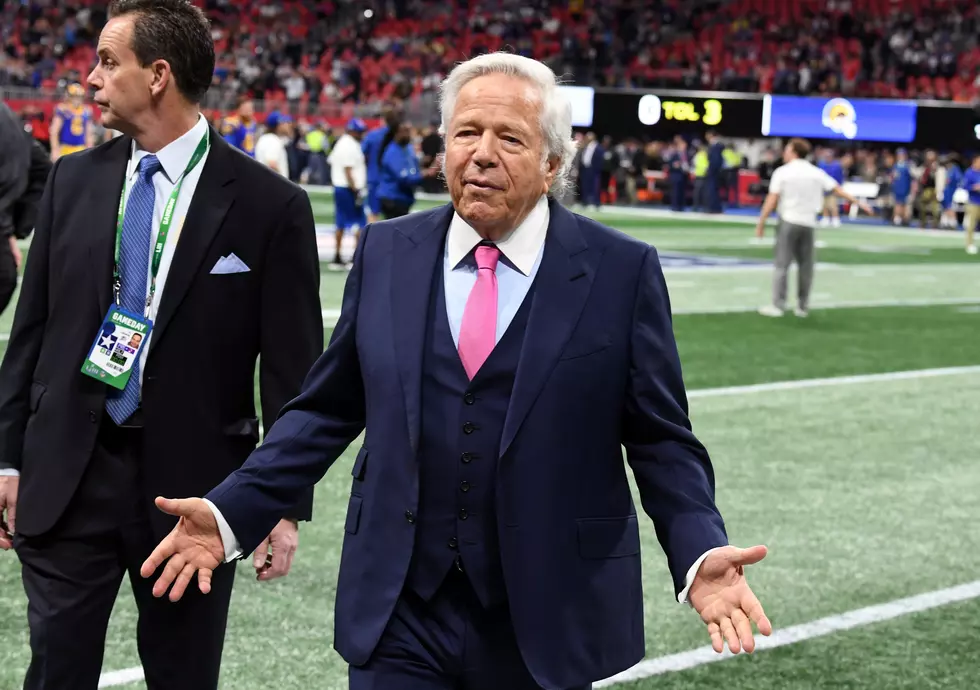 A PR Nightmare for the New England Patriots [PHIL-OSOPHY]
Getty Images
Police in Jupiter, Florida, say Robert Kraft, owner of the New England Patriots, is among hundreds of "johns" charged in two separate instances in connection with a prostitution sting at various spas in Florida, a charge Robert Kraft denies. Police say they have video of both instances.
Just days ago, a million and a half fans jammed the streets of Boston celebrating the sixth Super Bowl win for the Patriots and today, in shock, we're hearing news nobody could have expected of a very serious incident.
Here's why I say it is serious. If he's guilty, it's a misdemeanor with a possible fine of $1,000, a hangnail compared to other crimes. But that's only the surface. Underneath the charge, these massage spas in Florida have been run by corrupt ringleaders who enslave these girls. They are brought here from who knows where and forced to live and work in the same building. I'm told their living quarters are sub-human with many girls simply packed in a small space where they all have to sleep.
The other part of this is these corrupt owners don't allow the girls to leave for fear they'll run away, so they are confined there forever. Human trafficking is a very serious crime and that's why this bombshell is a public relations nightmare for a man and a brand that has done so much good in terms of the sport and charities through the Kraft Foundation.
What about Robert Kraft's legacy and that of the Patriots? Well, the haters are jumping for joy right now, and there are a lot of them. They'll rattle off a litany of choice words when talking about the man and the team: Deflategate, cheaters, Aaron Hernandez, and fill in the blank over this prostitution charge.
But that's human nature and we're not going to change it.
As for me, I don't fear mistakes. We all make them. I figure the real fans aren't the ones at the top of celebrations, but rather, the ones who stand next to you at rock bottom. Find me next to Robert Kraft.
Phil Paleologos is the host of the Phil Paleologos Show on 1420 WBSM New Bedford. He can be heard weekdays from 6 a.m. to 10 a.m. Contact him at phil@wbsm.com and follow him on Twitter @PhilPaleologos. The opinions expressed in this commentary are solely those of the author.
More From WBSM-AM/AM 1420