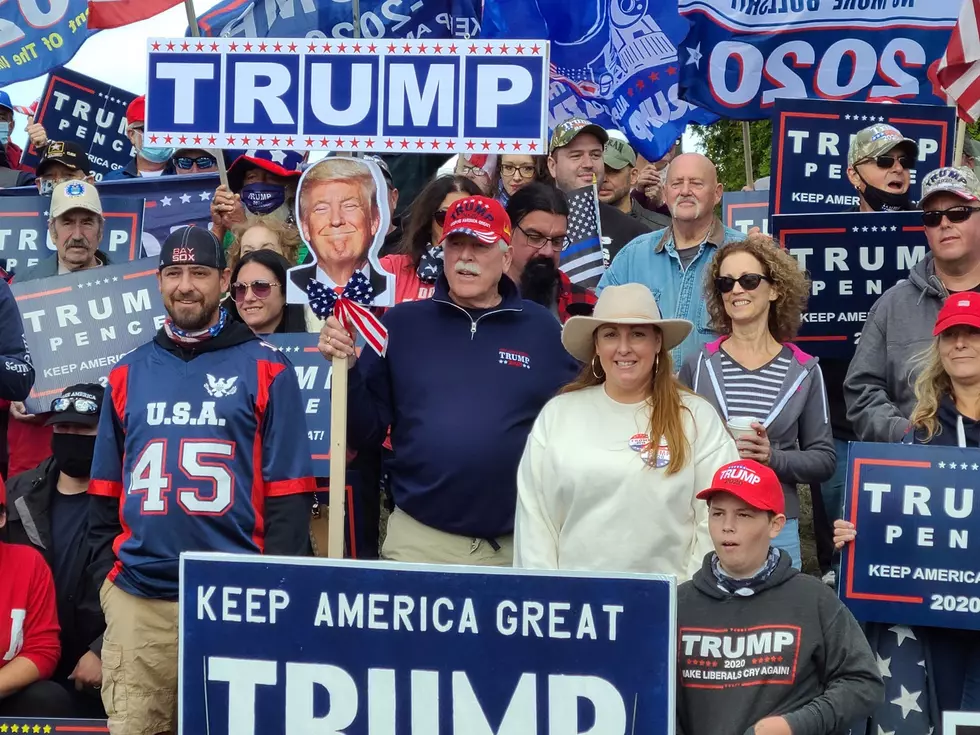 Stop Being Afraid to Be a Trump Supporter [SOUTHCOAST VOICES]
Courtesy Jess Machado
THIS GUEST OPINION PIECE BY: Jessica Machado is a freelance writer and former contributor to the Fall River Herald News. She is also a former radio host at WSAR and political blogger.
The presidential election is just over 40 days away and while there are many things that have led us to this moment, what happens over the next month could be some of the most important factors in who leads our country for the next four years.
That is why, more now than ever, I want to say: stop being afraid to be a Trump Supporter in Massachusetts.
I get it. When the state has voted blue for almost every single presidential election in the history of our country, many people will say it's not worth it to vote red. But Massachusetts has indeed voted red twice during a presidential election, both in 1980 and 1984 when Ronald Reagan defeated Jimmy Carter and Walter Mondale, respectively. It can be done and it's that mentality that we need to embrace if we are to re-elect President Trump for a second term.
The aggressive and often violent confrontations from the liberal democrats in Massachusetts can be a turn-off for anyone who feels compelled to show their support for the president. Just this past weekend, at a rally in Dartmouth with over 400 participants, an elderly woman holding signs on the corner was hit with a water bottle by a passing car of screaming BLM protesters. And while it was a shocking act, the real surprise was the reaction of the woman who was hit, who after a moment to collect herself, walked back to the corner with her sign and said "That's not going to stop me."
The reality is, there are far more Trump supporters in Massachusetts than most people let themselves believe. It is that fact that needs to be shared so that those who feel alone in their support for the president know that they are indeed not. There is confidence in numbers and I am here to tell you, there are numbers. Head over to the Massachusetts for Trump 2020 Facebook page where they are closing in on 20,000 members, united in their support for President Trump. In comparison, the Biden for Massachusetts page has just over 2,000 members. A recent sign-holding for Biden in Swansea had 10 people with a few signs while the Dartmouth rally was the largest standout in the state to date. Fake news is real and those of us on the ground in this state know the facts. Numbers don't lie. Massachusetts is MAGA country.
And still, despite the overwhelming displays of support for the president in Massachusetts, some people are still holding back. To those people, don't be afraid. Put that sign in your yard. If they steal it, get another one. Drive by a Trump rally and wish you were there? Pull your car over and join fellow Americans who love our president. Share that Facebook post with confidence and block those that comment hate and more fake news. Volunteer for the campaign in Massachusetts at trumpmassachusetts2020@gmail.com and give some time to the cause by making phone calls from home. Donate to the Massachusetts GOP if you can't do the work on the ground. It is this kind of effort that is needed so much right now and will swing this state red for a third time this November.
The only thing to fear is a country with a Biden administration. Real fear would be needing police to help you in an emergency and they never come because they've been defunded by the Democrats. Fear a country where you are sitting outside at a restaurant having dinner with your family and a group of screaming people force you to run away from your plate. Fear that looting and rioting will be so commonplace that we never even leave our homes.
There is so much to be afraid of right now but being a Trump supporter should not be one of them. Embrace being a proud American and show your support for the President of the United States. The country depends on it.
Editor's Note: 'SouthCoast Voices' is a series of guest opinions from newsmakers and other people across the region, on relevant issues that directly impact the people of Greater New Bedford and the surrounding communities. The opinions are solely those of the author. If you are interested in contributing, please contact tim@wbsm.com for more information. 
Enter your number to get our free mobile app
More From WBSM-AM/AM 1420