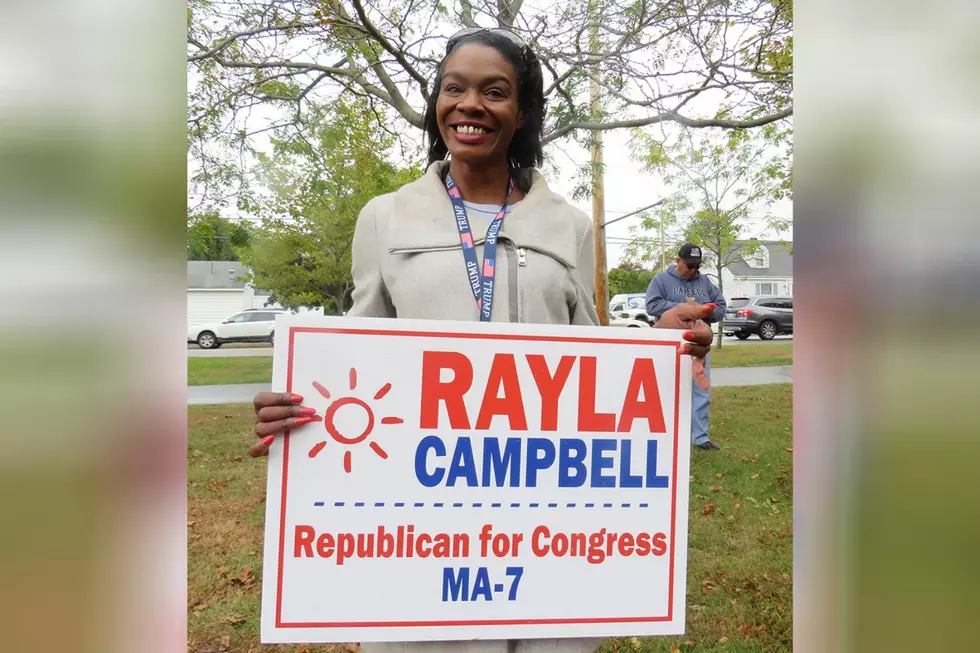 Rayla Campbell Accused of Threatening Violence Against Dartmouth Man [AUDIO]
Courtesy Steve Miller
DARTMOUTH — A Dartmouth man who serves on the Republican State Committee says he was threatened on a voicemail left by a Massachusetts GOP congressional candidate who later claimed she was a victim of violence in New Bedford.
Rayla Campbell, who made headlines earlier this week when she said she was attacked following a pro-Trump rally in New Bedford, allegedly left a voicemail with Tom Mountain, Vice Chairman of the MassGOP, in which she threatened violence against Brock Cordeiro, the Republican State Committeeman from the Second Bristol & Plymouth State Senate District.
"I will find out where this little motherf---er lives and beat him a new assh----," says a woman who identifies herself as "Rayla" at the beginning of the voicemail.
Cordeiro is the sole administrator of the Massachusetts for Trump 2020 Facebook group, which has more than 26,000 members and has served as a central information hub for Bay State residents who support the president's re-election effort. He said the dispute between the two began when he blocked her from the group over concerns about the content she had been posting.
"Rayla was furious because I blocked her from the Massachusetts for Trump 2020 Facebook group for consistently violating the rules. She would constantly post things never related to Trump, only about her campaign, or off on a tangent about Governor Baker/masks/vaccines/social distancing/etc.," Cordeiro told WBSM News. "I almost never found anything of any value and it was almost always self-serving. She was talked to twice by campaign leadership and continued on. Therefore, approximately a week ago, I blocked her. She then messaged me on Facebook."
Cordeiro provided WBSM News with screenshots of the private messages sent from Campbell's personal Facebook account to Cordeiro's personal account. We have blocked the name of her personal account for privacy reasons.
In the messages, Campbell wrote, "I don't care I am black voices for Trump unblock me now everything I do has to do with the president me and him speak like kindred souls who the hell are you. That's alright I'll just call Kaufman and the sheriff."
In that last line, Campbell is apparently alluding to Ron Kaufman, Republican National Committeeman for Massachusetts, and Sheriff Thomas Hodgson, the honorary chairman of President Trump's re-election effort in Massachusetts. In addition to their connection through the Massachusetts GOP, Cordeiro is also Sheriff Hodgson's administrative and legislative assistant.
Cordeiro replied with his reasoning for blocking Campbell from the group: "Your incessant posts that had nothing to do with re-electing President Trump and specifically your constant attacks upon Governor Charlie Baker/obsession with masks, COVID, etc which also have nothing to do with Massachusetts for Trump 2020. This isn't an anti-Baker/anti-GOP/anti-mask etc. group it's sole focus is to re-elect President Trump and almost none of your posts ever reflected the latter only the former."
Campbell's responses included, "I'll make sure everybody knows exactly what kind of a little bitch you are," "Come say it to my face Brock" and "You're a joke and you're pathetic but that's OK because you know what watch what I can do and what would (sic) I'm gonna do."
According to Cordeiro, Campbell posted some of the screenshots of the private messages on social media, and also made social media claims that he is a racist.
"After that discussion, the phone call was made to Tom Mountain to try to get him to make me unblock her (from the group)," Cordeiro said. Cordeiro provided WBSM News with a copy of the voicemail, which we present unedited except for truncating the end of the message where Campbell gives what is presumed to be her personal telephone number. We also warn that there is foul language in the following audio clip:
"Hey Tom, it's Rayla, we've got a big problem," the voicemail begins. "Brock, who works with the sheriff, decided that it would be either funny or OK with him to block me from the Massachusetts for Trump 2020 page, which I need access to because I need to post, and also get all the event information. This needs to be fixed now because I will find out where this little motherf---er lives and beat him a new assh---. Call me back."
Mountain then reached out to Cordeiro, and Cordeiro said after that discussion, he contacted the Dartmouth Police Department on Saturday night, October 10, to report Campbell threatening violence against him.
When reached by WBSM News on the evening of Tuesday, October 13, Mountain declined to comment on the situation. WBSM News reached out to Campbell on Tuesday, both via email and by messaging her official campaign Facebook page, to seek comment on the voicemail and the Facebook messages between Campbell and Cordeiro. Her response to this writer was, "Keep working on your story Timmy. I've never heard of your station sorry."
On Thursday, October 15, WBSM News once again reached out to Campbell via both email and Facebook for comment; no response was given, although the Facebook message does indicate that someone from the official campaign page did read the message.
WBSM News has also contacted the Dartmouth Police Department seeking a copy of the police incident report taken Saturday night.
Cordeiro said he did not attend the Columbus Day rally, which he said he helped organize, "precisely to avoid a potential confrontation with Rayla." "
I also noted in my police statement that she often travels with armed, open-carry security. I even made a Facebook post last week about her 'militia,'" Cordeiro said. He also said Campbell had her security detail with her at a recent pro-Trump rally in Dartmouth, but not in New Bedford on Columbus Day.
Campbell, who is running a write-in campaign against incumbent U.S. Representative Ayanna Pressley in Massachusetts' 7th Congressional District, made news across the country earlier this week after claiming to have been assaulted by two young women following a pro-Trump rally in New Bedford on Columbus Day. The candidate posted on her campaign Facebook page Monday that she was attacked.
"Two individuals, both female, physically confronted and then assaulted me," Campbell wrote. "I got kicked in the head and have a fractured tibia. I'm sore, that is all."
Video obtained by WBSM's Barry Richard on Tuesday suggested that Campbell may have played a role in instigating the attack.
WBSM News is still awaiting word from both the New Bedford Police Department and the Bristol County District Attorney's Office regarding any criminal charges filed as a result of Monday's altercation.
On Tuesday, NBPD spokesperson Melissa Batchilder issued the following statement:
"We responded to an incident and are in the process of conducting an investigation. If the investigation supports the violation of any criminal law, we will initiate criminal proceedings. Please note that this investigation is ongoing and we will have more information later today."
Batchilder later followed up with WBSM News Director Mary Serreze, stating "charges will be filed against all parties involved," but provided no names or specific charges. Serreze reports that as of Wednesday, no charging documents had crossed the desks of the Bristol County District Attorney's Office or the New Bedford District Courthouse.
Enter your number to get our free mobile app
More From WBSM-AM/AM 1420